Mark Your Calendars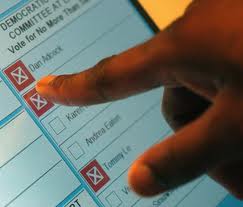 The General Election will be held on November 6. There are several key dates leading up to the Presidential election.
Republican National Convention
August 27 to August 30
Democratic National Convention
September 3 to September 6
Deadline to register to vote
October 16, 2012
Deadline to request Absentee Ballots
October 30, 2012
Deadline for the local Board of Election to receive an absentee ballot
8 p.m., November 6
General Election Day
November 6 Polls open 7 a.m. to 8 p.m.
Early Voting in Montgomery County is available to any registered voter.
Saturday, October 27 to Thursday, November 1
10:00 a.m. – 8:00 p.m. (Sunday noon – 6 p.m.)
Bauer Drive Community
Recreation  Center
14625 Bauer Drive
Rockville, MD 20853
Germantown Community
Recreation Center
18905 Kingsview Road
Germantown, MD 20874
Marilyn J. Praisner
Community Recreation Center
14906 Old Columbia Pike
Burtonsville, MD 20866
Executive Office Building
101 Monroe Street
Rockville, MD 20850
Silver Spring Civic Building
8525 Fenton Street
Silver Spring, MD 20910
For more information: visit www.777vote.org.