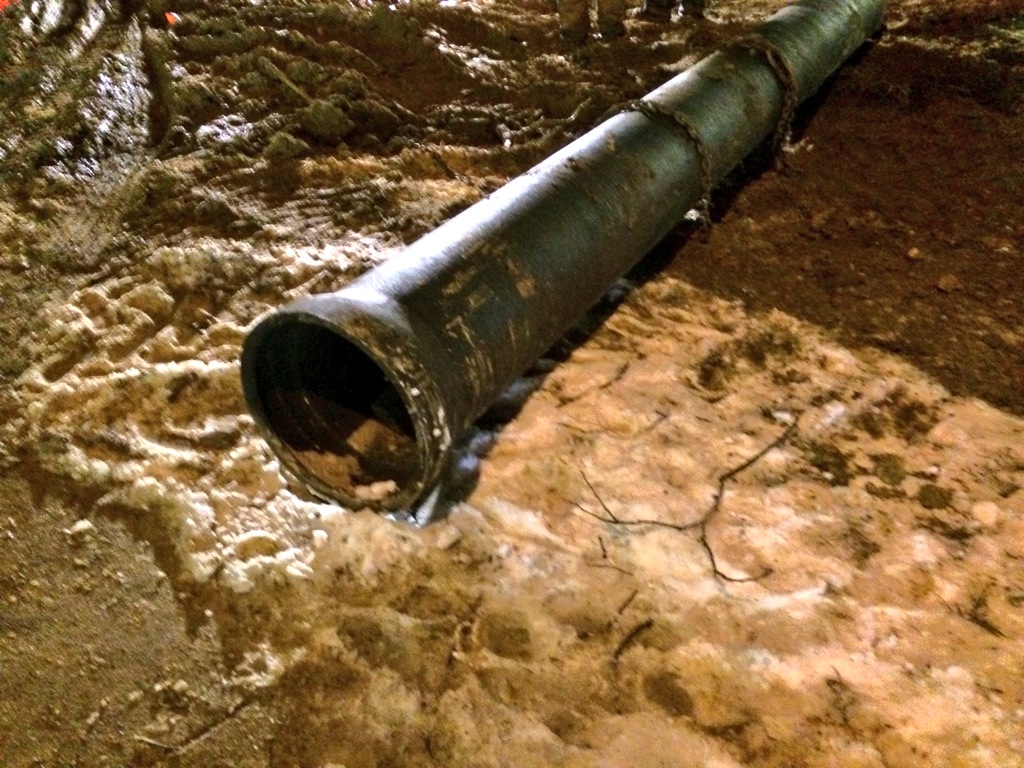 Water Main Break Closes Portion of Rockville Pike (Photos)
UPDATED Rockville Pike was closed for several hours today  between Edson Lane and Flanders Avenue in North Bethesda because of a water main break.
Jerry Irvine, a spokesperson for the Washington Suburban Sanitary Commission (WSSC), said the break occurred in a 16-inch water main that is 50-plus-years-old.
According to Irvine, the water main break was reported at 3:30 a.m. on Jan. 24.
He said Rockville Pike was closed in both directions  (near White Flint Mall) because of the water and debris runoff in the road.
According to Irvine, the water main was installed in 1951 and services ten or eleven commercial customers. No residential customers are impacted by the break, he said.
Irvine said only one southbound lane will need to remain closed while repairs to the pipe are underway. The work is expected to take several hours to complete.
Motorists should expect delays in the area and seek an alternate route if possible.
At 8:30 a.m., WSSC reported on Twitter that northbound lanes of Rockville Pike at Edson Lane had reopened. At 10:30 a.m., two southbound lanes were opened. At 2:30 a.m. on Jan. 25, the water main was put back in service.
FROM THE WSSC TWITTER FEED
Water main that ruptured Fri AM back in service today at 2:30 AM. One lane SB remains closed as cleanup wraps up on site.

— WSSC Water News (@WSSCWaterNews) January 25, 2014
— WSSC Water News (@WSSCWaterNews) January 24, 2014
2 southbound lanes open on Rockville Pike at Edson Lane as #WSSC continues to work on broken water main. Thanks for your patience.

— WSSC Water News (@WSSCWaterNews) January 24, 2014
Northbound lanes Rockville Pike at Edson Lane reopened. #WSSC crews remain on scene of water main break.

— WSSC Water News (@WSSCWaterNews) January 24, 2014
#WSSC crews on scene water main break on Rockvilke Pike and Edson Lane. North and south lanes currently closed.

— WSSC Water News (@WSSCWaterNews) January 24, 2014