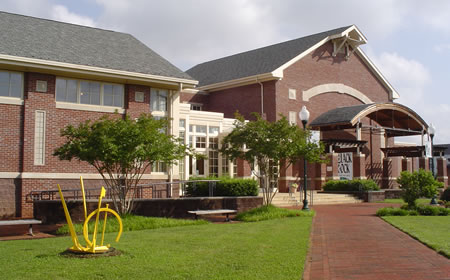 Wegmans Shows Its Support for BlackRock
Wegmans Food Markets will present a $5,000 check to BlackRock Center for the Arts on August 24 at the Center's Open House. The donation will support educational programs for at-risk youth and BlackRock's concert series. Wegmans is opening its first grocery store in Montgomery County on September 15 in Germantown.
Headquartered in Rochester, NY, Wegmans is a family–owned company with 81 stores in New York, Pennsylvania, New Jersey, Virginia, Maryland, and Massachusetts. Wegmans strives to make a difference in every community it serves through five main areas of giving: feeding the hungry, helping young people succeed, healthy eating and activities, enriching store neighborhoods, and United Way initiatives.
Wegmans will present a $5,000 check along with plans to partner with BlackRock Center for the Arts in educational programming that benefits at-risk youth. Wegmans will also give gift bags to the first 250 families who attend the free event. When asked why Wegmans is supporting the Germantown community through its partnership with organizations like BlackRock, Germantown's store manager, Phil Quattrini replied, "Because it's the right thing to do."
BlackRock's annual free Open House is a chance for friends and neighbors to discover and experience visual and performing arts in a beautiful facility in the center of Germantown. The three-hour Open House will feature free sample classes for children in a variety of visual and performing arts, such as dance, piano and musical theater. Guests will have a chance to learn more about the 2013/14 performance season which opens on September 28 with New Jersey rocker, Southside Johnny and the Poor Fools, and may register for fall classes, which start on September 9. Festivities will also include two performances by New York-based family-friendly rock, folk and funk band, Rolie Polie Guacamole, an art exhibit by the Art League of Germantown, arts and craft activities, a scavenger hunt with prizes, free snacks and a cupcake reception and sparkling cider toast to Wegmans' support and the 2013/14 season.
Additional Coverage
BlackRock Center for the Arts will hold their annual open house on August 24 from 11 a.m. – 2 p.m. The day will include activities for the family, performances and exhibits in the art gallery. BlackRock is located at 12901 Town Commons Drive, Germantown. Activities and performances planned for the open house include: "Discover BlackRock" […]
Wegmans Food Markets will present a $5,000 check to BlackRock Center for the Arts on August 24 at the Center's Open House. The donation will support educational programs for at-risk youth and BlackRock's concert series. Wegmans is opening its first grocery store in Montgomery County on September 15 in Germantown. Headquartered in Rochester, NY, Wegmans […]