Westfield Montgomery Celebrates Renovation, Starts on Parking Deck Project
Westfield Montgomery celebrates the unveiling of its new shopper experience this week with a series of events as the demolition and reconstruction of the center's South Parking Deck and West Parking Garage began as part of the larger renovation project.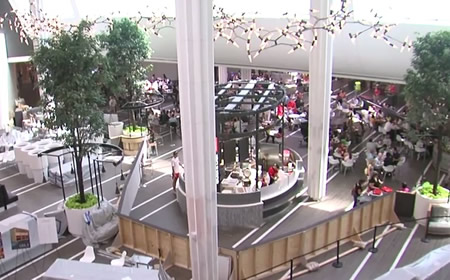 The project is expected to be completed in early December. All shoppers, employees and retailers are to park in the new parking structure at the corner of Westlake Drive and Westlake Terrace.
With the completion of the new Dining Terrace, ArcLight Cinemas and more, Westfield Montgomery has reached a significant turning point in its $90 million renovation project. Celebrations begin today with a private VIP reception and will continue in the days ahead with events open to the public, including the arrival of Santa Claus and celebrity appearances at in-store events at Macy's and Microsoft.
"Following 18 months of planning, construction and development, we're thrilled to unveil the new Westfield Montgomery to the entire metro area," said Eric Howard, senior general manager at Westfield Montgomery. "While the 'food' and 'film' aspects of the transformation are winding down with the addition of new to market restaurant partners, the Dining Terrace and ArcLight Cinemas, the 'fashion' phase remains a focus, and we look forward to introducing new retailers in the months to come. The new Westfield Montgomery caters to the demands of today's shoppers by providing them with unmatched amenities and retail and dining options previously unavailable in the region."
Westfield Montgomery in North Bethesda boasts an entire transformation of the property with added features and amenities including:
New Dining Terrace – Westfield's signature Dining Terrace concept offers new fast-casual eateries complimented by stylish furnishings, finishes and seating, and includes dining options new to the D.C. metro area such as Boston-based MET Bethesda and Las Vegas-based Lobster ME.
First east coast location of ArcLight Cinemas – The 16-screen, 2,400-seat theatre, complete with reserved seating and dining and beverage services, redefines the movie-going experience.
Expanded retail mix – newly opened retailers include Lily Pulitzer, lululemon athletica and True Religion, with Microsoft scheduled to open next week.
Valet services – Located adjacent to the Dining Terrace, new valet services will further improve the entire shopping experience.
Family Lounges – Comfortable spaces and play areas accommodate shoppers with children.
Interior Upgrades – Chic new furnishings and finishes are now throughout the shopping center.
To kick off the celebrations, Westfield Montgomery is hosting a celebratory event tonight to thank all who were involved in the revitalization project. Hosted at the center's newest restaurant MET Bethesda, the VIP event will celebrate guests and their contributions with a red carpet arrival, reception dinner and a private film screening at ArcLight Cinemas.
Westfield Montgomery's festivities will continue throughout the week with the following open-to-the-public events:
Friday, November 14,  at 10 a.m. – Santa Claus and his elves arrive at the center! Designed exclusively for Westfield Montgomery, the new holiday décor is inspired by the new modern classic design of the center and has a special sparkle sure to get shoppers in the holiday spirit.
Saturday, November 15, 3 p.m. – Macy's will host a lifestyle and fashion Q&A event featuring Washington Redskins player Chris Baker in the men's department! The first 100 customers to make a Gucci, Dolce & Gabbana or Boss parfums purchase that day will receive a free autograph and photo opportunity with Chris Baker.
Sunday, November 16, 8 a.m. – Girls on the Run of Montgomery County will host a 5K Fun Run.
Sunday, November 16, 9 a.m. – 12:00 p.m. – Burton Sports will host a Riglet Event where kids will have the opportunity to learn how to snowboard. This free event is open to children ages 2 – 7 and features an "Enter to Win a Riglet Board" contest! (Drawing will be held at the end of the event.)
Saturday, November 22, 10:30 a.m. – Microsoft will open its third retail store in Maryland at Westfield Montgomery with grand opening ceremonies that include the chance for a few lucky shoppers to play Xbox One with special guest, Washington Nationals pitcher Stephen Strasburg.