Who's Driving Food Recovery?
Last week, while our Executive Director Jackie DeCarlo attended Maryland's Hunger Action Symposium, the entire Nutrition Department (that's Jenna Umbriac and little me) attended the Capital Area Food Bank's Northern Virginia Hunger Summit: Love Food Hate Waste.
In 2011 alone, Americans generated more than 36 million tons of food waste, with only four percent diverted from landfills and incinerators for composting. On a relevant note: about 50 million Americans do not have access to enough food.
I could spend seven more paragraphs elaborating on the extent of food waste in our country—but I think you already know why it's a problem. Diverting food from landfills holds numerous environmental, economic, and social benefits. The last of which is dear to Manna's heart: we can feed people rather than landfills by recovering fresh, wholesome food for those in need.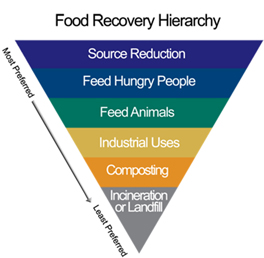 source: epa.gov
In the past fiscal year, Manna acquired over 2 million pounds of food through grocery store and wholesale distributor rescue. We currently partner with 50 stores and organizations in Montgomery County from whom we regularly pick up food—this is food a grocery store no longer considers retail-able; food that, until recent years, went straight to the dumpster.These items include a variety of produce, meats, dairy, frozen meals, breads, and pastries, distributed at Manna the same day we receive it. At 6:30am, our hardworking drivers arrive at local grocery stores, that expect us and depend on Manna to recover food they have ready for us.

This process might raise two important questions to readers unfamiliar with food recovery effort: WHY IS "UN-USABLE" FOOD ACCEPTABLE FOR A FOOD BANK? and HOW DO WE KNOW THE FOOD IS SAFE?
"U.S. consumers and businesses needlessly trash billions of pounds of food every year as a result of labeling practices… Forty percent of the food we produce in this country never gets eaten" (Dating Game Report).  Confusing food date labels contribute to an atrocious amount of food waste in our country; stores are prohibited from selling food because of a system with serious shortcomings. The date labeling policies and practices are inconsistent, and lead consumers to believe the date indicates safety rather than freshness. These dates are only a suggestion by the manufacture for when the food is at its peak quality, not when it is unsafe to eat. With this knowledge, Manna staff and volunteers inspect and sort every food item before it is distributed to clients.
Handling past-date foods is legally complex and raises liability concerns from many organizations and large corporations. Unfortunately, this perception hinders many in the food industry from donating usable foods. The Bill Emerson Good Samaritan Act was created to prevent good food from going to waste and to protect companies from liability surrounding their donations. This act encourages donation, protects food and grocery donors, and protects grocery products. Food banks also protect their donors by offering a variety of liability protections, including strict standards of warehouse operation, proper storage and handling procedures, complete product tracking and recall capabilities, and accurate and timely receipting. There are even tax benefits to reducing waste!
Manna Food Center is proud to partner with so many companies committed to reducing food waste by helping us feed our neighbors. There's a long way to go and there are many more to feed. Here are some of Manna's hardworking truck drivers who help make food recovery happen everyday here on Gaither Road…