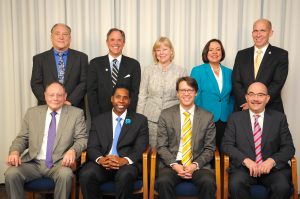 Will County Council Consider Raising Minimum Wage on Jan. 17? (VIDEO)
The Montgomery County Council is set to return on Jan. 17 for its first meeting in the new year.
One item on its tentative calendar agenda is the controversial issue of raising the minimum wage to $15 an hour by 2020.
There have been many rallies across Montgomery County supporting the increase and hundreds of letters and emails written to council members on why the bill should be approved.
"The cost of living in this area is one of the highest cost of living and for us not to have at least a $15 an hour minimum wage is inexcusable," said Raj Gupta, attorney, The Associates. "Not only should it be a $15 an hour minimum wage, but it should also be tied to inflation to the cost of living index."
We reached out to some opponents of the bill,  many who are small business owners, but they declined an on-camera interview fearing backlash from the community.
Some did tell us over the phone that raising the minimum wage to $15 an hour by 2020 is too much too soon.
Marilyn Balcombe is the president and CEO of the Gaithersburg Germantown Chamber of Commerce. Balcombe says many small business owners in the County have reached out to her to voice their concerns.
"The idea that people can just simply raise their prices or absorb that kind of increase is a bit naive," said Balcombe.
Balcombe because the County Council approved a bill in 2013 to raise the minimum wage to $11.50 by July 2017, the Council should evaluate the impact of the first increase to determine how to move forward with an additional one.
"I think that it will be great if the council could just study it a little bit more and listen to the businesses a little bit and looking at the issue of extending the time frame a little bit."