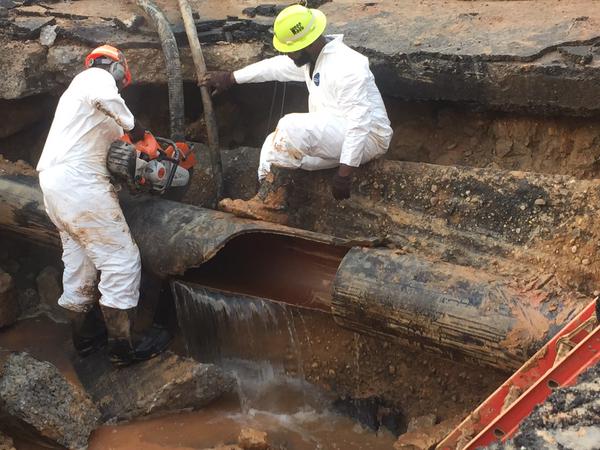 Georgia Avenue Reopens Following Water Main Break (PHOTOS)
UPDATED: All lanes of Georgia are open according to WSSC.
10 PM Update: SB GA Ave at Shorefield Rd in Wheaton is open. What a difference a day makes. Thx 2 pipe & paving crews pic.twitter.com/F9UPIcLkQo

— WSSC Water News (@WSSCWaterNews) July 3, 2015
The southbound lanes of Georgia Avenue are still closed this afternoon as crews repair damage to the roadway caused when a major water main broke Wednesday afternoon.
According to Washington Suburban Sanitary Commission Spokesperson Jerry Irvine, the break in the 16-inch pipe has been repaired and customer water service has been restored. Irvine said the pipe was 68 years old and the age of it could be a factor in why it ruptured. The break occurred about 1:30 p.m. Wednesday and more than 2.5 million gallons of water spilled out onto the road and nearby properties. The water forced one family of three adults and three children to be displaced from their home, according to Montgomery County Fire and Rescue Spokesperson Pete Piringer. Irvine said he believes Georgia Avenue will be open in both directions for the evening rush hour. Photos taken earlier today:
Restoration to SB GA Ave well underway after #WSSC water main break yesterday. Will try to reopen for pm rush. pic.twitter.com/xx043vctGe

— WSSC Water News (@WSSCWaterNews) July 2, 2015
Making progress on GA Ave #WSSC water main break repairs. Cutting out broken section of 16″ pipe. pic.twitter.com/1LlIuZsCGd — WSSC Water News (@WSSCWaterNews) July 1, 2015
Water back on very soon… New #WSSC pipe in place on GA Ave. pic.twitter.com/eZeXe5ClNT

— WSSC Water News (@WSSCWaterNews) July 2, 2015

Related: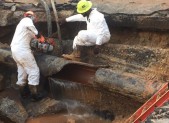 UPDATED: All lanes of Georgia are open according to WSSC. 10 PM Update: SB GA Ave at Shorefield Rd in Wheaton is open. What a difference a day makes. Thx 2 pipe & paving crews pic.twitter.com/F9UPIcLkQo — WSSC Water News (@WSSCWaterNews) July 3, 2015 The southbound lanes of Georgia Avenue are still closed this afternoon […]
UPDATED, July 1, 7:30 p.m. – Washington Suburban Sanitary Commission says 2.5 million gallons of water gushed out of a ruptured 16-inch water main Wednesday afternoon in Wheaton. The break along Georgia Avenue was reported about 1:30 p.m. and water flowed out of it and onto the road and nearby properties for about two hours, […]