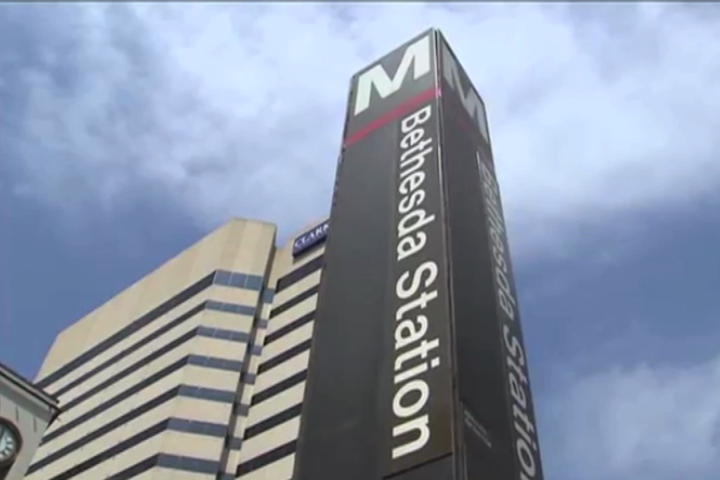 Escalator Project at Bethesda Metro Begins This Week
Metro is preparing to begin a major capital project to install three new escalators at the Bethesda Station beginning the week of Oct. 6.
The project is scheduled to replace the current escalators, which are more than 30 years old and have exceeded their useful life, with brand new escalators that are more durable and reliable. Metro's contractor, KONE, will install the new escalators one at a time, while keeping two units in service for the duration of the project — one running up and one running down.
Rising 106 feet, the entrance escalators at Bethesda Station are the second longest in the Western Hemisphere (behind Wheaton Station), and replacing the units will be a much harder task that their initial construction. According to KONE's schedule, each of the three escalators will require approximately 42 weeks for site preparation, demolition, construction, installation and testing.
To keep the station open for customers, the escalators will be replaced one at a time, rather than all at once. For safety reasons, construction work can only be conducted overnight when the station is closed and the adjacent escalators are not running — a work window of about four hours per night. Taken together, these factors extend the project timeline to about 2 ½ years. In addition, working with the contractor, Metro will seek ways to shorten the project timeline by taking advantage of additional work windows without compromising safety. The new escalators have already been manufactured and are in storage so the project can move forward efficiently.
Customers at Bethesda Station already benefit from a new stairway installed between the mezzanine and platform levels, two new escalators connecting the mezzanine and platform levels, and new, brighter lighting over the mezzanine that has improved safety and visibility.
For the duration of the project, Metro is slated to have Transit Police, emergency management, rail supervision and escalator technicians at Bethesda Station at all times the Metrorail system is open. The personnel at Bethesda are expected to continually monitor operations and take appropriate steps to ensure that the station is not overcrowded and that escalators and elevators remain available for entry and exit. However, riders should be aware that in the event of a service disruption, the station may need to be temporarily closed to prevent safety hazards related to overcrowding. This may happen with little advance notice. When the station is temporarily closed, Red Line trains will bypass the station in both directions and passengers on the platform will have to exit the station.
For more information: http://www.wmata.com/Images/Mrel/MF_Uploads/Bethesda-Flyer.pdf?