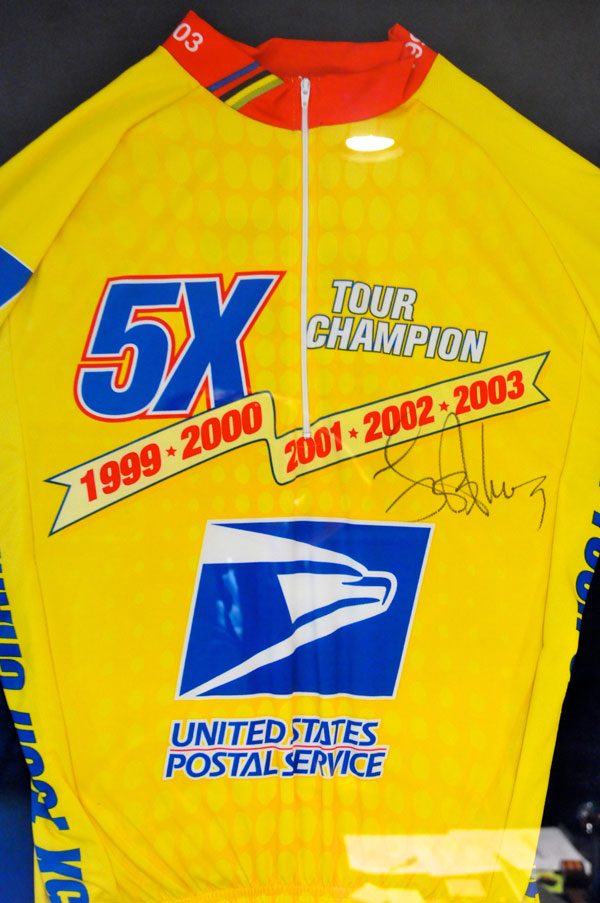 Yellow Flag Flies Like an Eagle
This is sixth in a series called "Not Rain, Sleet, Snow, nor Floyd or Lance's Yellow" about the Postal Service sponsorship of its ProCycling Team.
The Blue Train Wreck Years – 2001 to 2003
"Time keeps on slippin', slippin', slippin' into the future" – from Steve Miller's American classic song – Fly Like an Eagle

Paris (Champs-Elysees) – Sunday, July 29, 2001 – Armstrong on this day would finish as the winner in the most important General Classification (GC) in the Tour de France (TDF) – the US Postal Team with newly added Floyd Landis would finish 6th in the Team classification. On this day and late into the celebratory evening it could perhaps be considered the apex of the USPS association with Tailwind Sports/ProCycling. But time was slippin' slippin' away.
In 2000 as an executive with the Sales Department at USPS tasked with Operational Support, I reported to work at Sales HQ in Clarendon VA. And so on Monday, July 30th 2001 when I entered the Clarendon office it was there to greet me, as it did each day for past 17 months. It was a signed "Beak in the Box" Yellow Jersey. It reminded all who entered the height of what was – and what winning could be.
Each year a newly signed replica of the TDF yellow jersey would be encased in glass and placed into a wall cabinet on the first floor Hall of Flags at USPS's L'Enfant Plaza headquarters. It was also there for employees to see the example of winning and along the way viewed by any person doing business at HQ or those wandering DC tourists to gape at. By 2002 the Order of the Yellow Flags were flying among the most successful postal operational facilities.
On that Sunday back in July 2001 champagne and good times would flow as all members associated with US Postal in France celebrated. Yes, those associated with the contract, Sales executives, and key customers, friends, riders, all celebrated. However, back home dark clouds had been gathering and those good times would shortly end.
Going back to May of 1998, William "Bill" J. Henderson succeeded Marvin "Carvin" Runyon as the Postmaster General. Bill stayed until May 2001. During his tenure he elevated the Sales Group to an enviable (and sometimes despised) status within the organization. But, Henderson should be best remembered for reaching out to Fred Smith of FedEx to forge a business partnership that lasts even until today.
In January 2001, the USPS together with FedEx rocked the business world by announcing their business partnership that would provide the USPS backhaul space on FedEx air cargo planes to move 1st Class, Priority and Express Mails to distribution transfer points across the US. FedEx would sort and process US Mail at two transfer hubs, their major facility operations in Memphis TN and the other in Oakland CA. This "postal contract" would be operational by August 2001. The USPS had become (and still remains) FedEx's largest commercial customer.
UPS was now outside looking in as these two large supply chain/distribution companies melded operations. UPS in 2001 could only maneuver harder using their lobbying strength on Capitol Hill to pressure the USPS to justify operational expenditures.
By 2001 Armstrong had become an in demand commercial commodity and brand spokesperson. You would watch OLN's Tour broadcast's and during commercial breaks national sponsors would cater to the male American audience. Nike, Trek bikes, Budweiser (Michelob), Cadillac, and I think even Subaru pushed products that would at some point then and in the future – feature Armstrong. Eventually he would create a huge network of sponsorships.
Change was in fashion at USPS. So it occurred that after the SAG strike ended in 2000 the USPS took a different ad/marketing/branding approach – Armstrong was no longer the face – it now became the " Beak in the Box". Change would be most notable at the lead up to and during the TDF broadcast.
And the Steve Miller Band's beat went – Do dot da doo doo doda, Do dot da doo doo doda – Time keeps on slippin, slippin, into the Future, Time keeps on slippin, slippin, into the Future – I want to fly like an eagle to the sea, fly like an eagle, let my spirit carry me…
The blue background eagle postal emblem similar to what US Postal and Armstrong uniforms wore to win a third TDF yellow jersey in Paris was now flying across the top third of the nation's TV screens promoting Priority Mail and other USPS services using Miller's classic rock tune.
Something strange also happened. The Sales team leaders that went to Paris that June/July (and in prior years) never returned to their original positions – the Sales department had a bull's-eye on it – it would be dismantled and reconfigured as a result of a massive reorganization before the end of the calendar year. Gone forever was the club of internal ProCycling support.
The USPS was slippin' to a "core" in the future. Would there be room for ProCycling in this "core"? No one knew that answer in August of 2001.
Because for the first three weeks in August 2001 we were all too busy getting ready for operational changes brought on by the USPS/FedEx contract partnership. And some "others" in Sales were too busy politicking for jobs.
Next: "Just too busy to think about us"