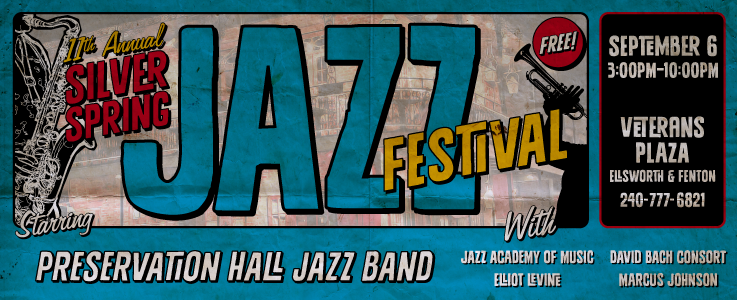 11th Annual Silver Spring Jazz Festival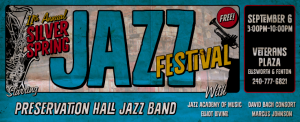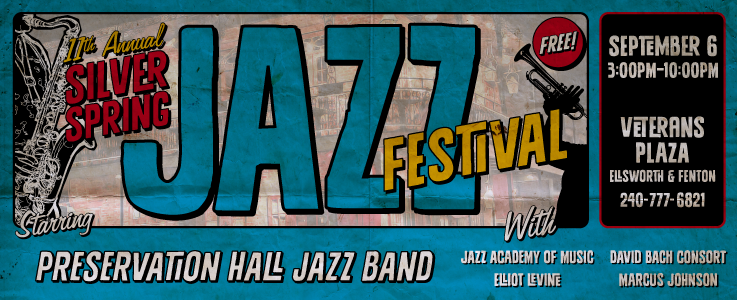 The Preservation Hall Jazz Band headlines the Silver Spring Jazz Festival on Saturday, September 6, 2014 from 3-10 p.m. in downtown Silver Spring.
Each year, the Silver Spring Jazz Festival has presented a mix of many jazz genres, including straight ahead, smooth, Latin, and other popular jazz forms. This year the festival enjoys original eclectic jazz from New Orleans' own Preservation Hall Jazz Band, smooth jazz from popular favorite Marcus Johnson, funk and R&B from Elliott Levine, world music from the David Bach Consort and an eclectic mix from the Jazz Academy of Music, located in Silver Spring.
Silver Spring Jazz Festival Line-up
3 p.m. Festival Welcome
3:15 p.m. Jazz Academy of Music
4:30 p.m. Elliott Levine
5:45 p.m. David Bach Consort
7 p.m. Marcus Johnson presents The Urban Jam Band
8:30 pm Preservation Hall Jazz Band
10 p.m. Festival Ends
Preservation Hall Jazz Band– Preservation Hall was founded in 1961 to promote traditional New Orleans jazz in all its authenticity.  Its original stars were legendary players like George Lewis, Kid Thomas Valentine, and Sweet Emma Barrett, all rooted in the formative years of jazz.  That generation is long gone now, yet the Hall is still in business and the Preservation Hall Jazz Band continues to tour the world. Creative Director Ben Jaffe is carrying on a musical family tradition started by his parents, Allan and Sandra Jaffe, who were instrumental in founding the Hall and turning it into an internationally known cultural icon. When Ben took over the operation in 1995, he faced the challenge of keeping it going with a dwindling band of veteran musicians and an aging audience base. His solution has been to inject the touring band with new blood, bringing in some younger players with fresh musical ideas and to form collaborations with groups and musicians from outside the New Orleans tradition. In recent years, the PHJB has performed and recorded with a wide array of musicians, ranging from groups like My Morning Jacket, Tom Waits, Merle Haggard, Pete Seeger, and the Del McCoury Bluegrass Band. The culmination of this collaborative effort was the sellout 50th anniversary concert that the PHJB hosted at Carnegie Hall in January 2012 and the production of an album of eclectic original music entitled, "That's It."
Marcus Johnson presents The Urban Jam Band– Homegrown star Marcus Johnson, an extraordinary jazz keyboardist and composer, will perform his own compositions, a blend of contemporary jazz stylings and hip-hop rhythms.  He describes his music as "instrumental R&B with a D.C. bounce." Marcus began playing the piano at age nine, and from there, he wanted to "create classics, not just hit songs."  Marcus, a founding member of the Silver Spring Jazz Festival, has done the amazing by launching both a record label and a popular wine label.
David Bach Consort–
David Bach is a versatile keyboardist and composer. He has played keyboard for Janet Jackson's  Everything but the Girl Tour, and toured with Enrique Iglesias.  Bach currently has five CD's featuring his unique world jazz style, "Otherworld," which charted on CMJ's Top 40 Jazz Chart "LIVE," "A Deep Breath," "5 Thousand Words" and his first CD, "Window on the West." The David Bach Consort was the winner of the Jazz Discovery Showcase on BET and has performed at Jazzmatazz with B.B. King, as well as the Kennedy Center and the White House Correspondents Dinner.
Elliot Levine–
Elliot Levine has toured with Wilson Pickett and Heatwave and has opened for Brian McKnight, Freddie Jackson, McCoy Tyner, and Gerald Albright. He has had the #1 song on mp3.com, which received over 1,000,000 downloads. Elliot has multiple internationally-released CDs which have received extensive airplay. He has headlined at Blues Alley and the Kennedy Center. In 2013 he released his fifth CD "347 Live."
The 2014 Silver Spring Jazz Festival takes place at Veterans Plaza at the Silver Spring Civic Building, One Veterans Place (at the corner of Ellsworth Drive and Fenton Street).  The Silver Spring Jazz Festival is presented by Montgomery County Government, the Celebrate Downtown Silver Spring Foundation, Montgomery County Recreation, The Silver Spring Urban District, and corporate sponsors:  AFI Silver, Comcast,The Fillmore Silver Spring, The Gazette, Home Properties Inc., The Silver Spring Courtyard by Marriott and 9NewsNOW (WUSA-TV).
Attendees are encouraged to use public transportation – the Silver Spring Metro (Red Line) is two blocks away – and to bring folding chairs. Limited parking is available in the Wayne Avenue garage, the Town Square garage, and the garages on Bonifant Street, Cameron at Ramsey Avenue, and Cameron at Fenton.
For more information, call 240.777.6821 or visit www.montgomerycountymd.gov/rec.