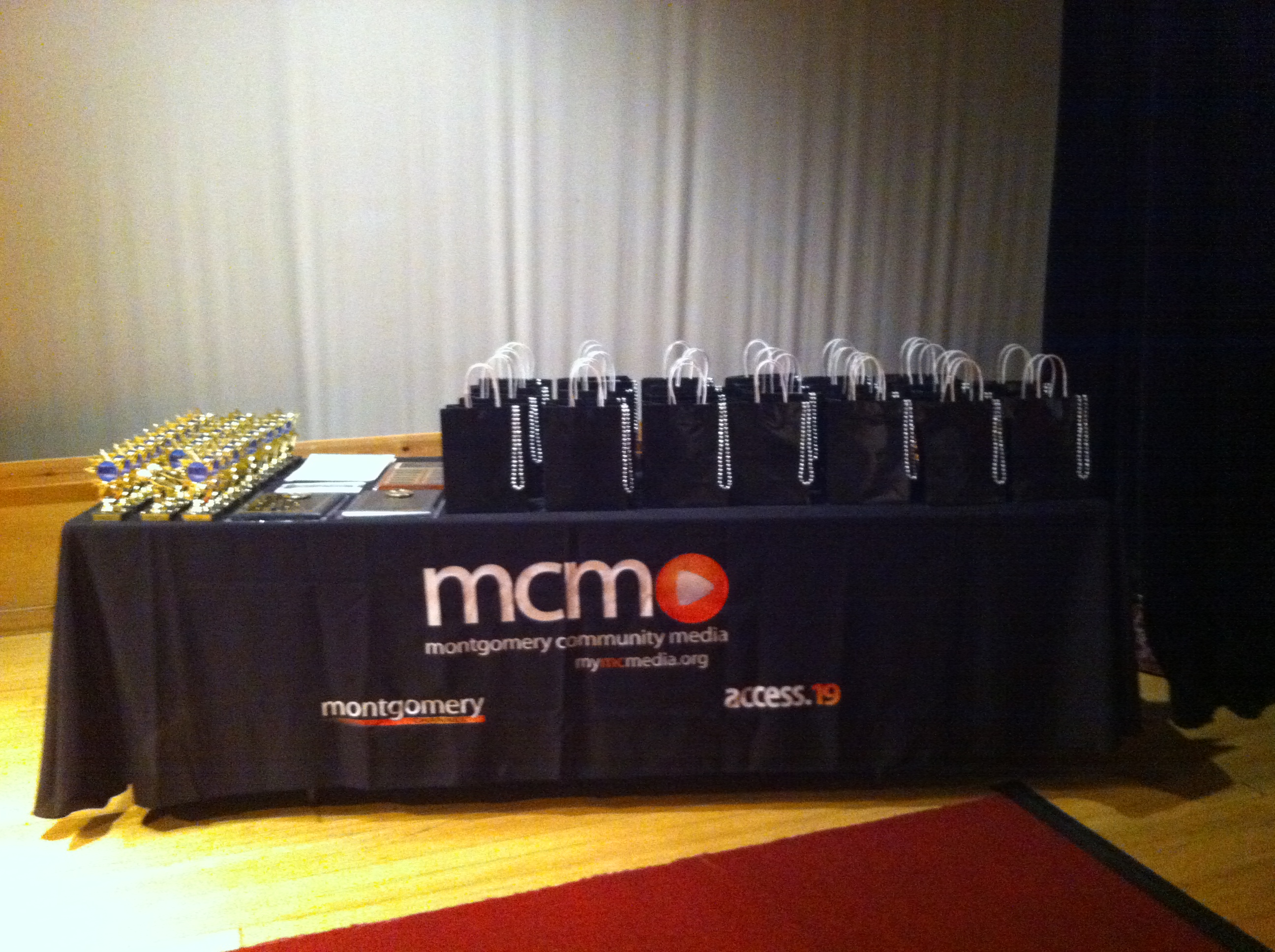 2013 Monty Awards – My View
Sunday (11/17) night was the event that we have been planning for since February.  Black Rock Center for the Arts in Germantown was the place. Don Mooers was the host of the evening .The Monty was the award! The event was the 2013 Monty Awards! It was a night to remember with over 200 guests in attendance!
I love this event and my favorite thing is that we get to honor all of our volunteer producers, technicians, editors, presenters, students and now bloggers. They work so hard and countless hours to make their productions happen.  Black Rock Center for the Arts was the perfect backdrop to put our volunteers in the "spotlight" this year. The doors opened to begin the cocktail hour catered by The Bean Bag Deli & Catering. Our guests were able to enjoy great food, conversation and peruse the Silent Auction table before the ceremony began. Once everyone found their seats in the theater, Nancy Poole,  MCM Board President started off the evening by giving a few remarks and recognizing some special guests. Don Mooers then took the stage to start the evening. Many of you may know him from hosting Montgomery Week in Review.  Throughout the evening awards were giving to producers, technicians, presenters and bloggers. The newest addition to the Monty Awards was the Blog category which recognized the blog post on www.mymcmedia.org that got the most number of hits. Jerry Simon was this year's Bill Randolph Award winner (the technician with the most hours) and MCM's Executive Director, Merlyn Reineke gave out three special recognition awards including the Bruce Adams award which recognizes volunteerism in the community.
All in all it was a successful event!  Now, it's time to wrap it up and begin to plan for next year. I can't wait to see what 2014 holds!
Check out the evening with social media (#monty2013)
https://www.mymcmedia.org/the-2013-monty-awards-on-twitter-photos/
See a list of all the Monty Award winners:
https://www.mymcmedia.org/monty-2013-awards-ceremony-photos/
If you attended the event, take a quick survey HERE to tell us what you thought about the event