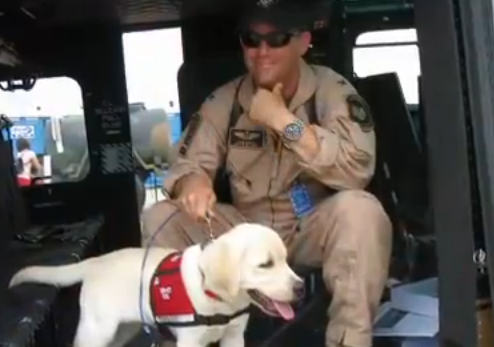 A Hero's Best Friend
For those veterans who return from combat duty with physical or psychological injuries, Hero Dogs Inc. and the Silver Spring Vet Center offer an array of services, ranging from employment assistance, counseling for post-traumatic stress disorder, and help with day-to-day tasks that may simply be too hard for the recovering veteran to accomplish.
Wayne Miller is a combat veteran of the Vietnam War, and as Team Leader at the Silver Spring Vet Center, he provides counseling, educational and vocational assistance, and family support for veterans whose lives are changed forever by war.
We visit
Hero Dogs Inc.
, located in Brookeville, to watch the dogs-in-training as they are put through their paces. Founder Dr. Jennifer Lund shows us how the dogs literally help with laundry, fill or empty the refrigerator, help a person get dressed, and find your keys, the TV remote and your shoes, among other things an injured vet might need. And for them, work really is play.
The next show of Studio 501(c)(3) airs on Tuesdays at 12 p.m. and then again at 8 p.m. on Channel 21. Don't miss it!
Visit Studio 501(c)(3) to see previous episodes on demand.