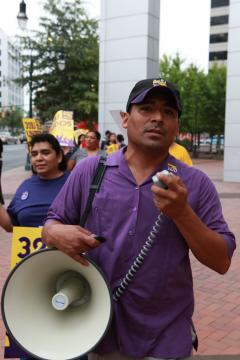 32BJ SEIU Mourns Loss of Former D.C. Council Member Jim Graham
The Council of the District of Columbia confirmed the passing of former Councilmember Jim Graham on Facebook Thursday.
Following the announcement, 32BJ SEIU Vice President Jaime Contreras released the following statement:
"Immigrants and low-wage workers in the District are mourning the loss of one their most passionate and reliable champions," said Contreras. "From living wages for security officers and paid sick leave for all District residents, to low-income housing, language access rights and expansion of health insurance coverage for immigrants, Graham worked tirelessly to improve the lives of D.C.'s underserved communities."
With more than 163,000 members in 11 states, including 18,000 in D.C., Montgomery Country, Northern Virginia, and Baltimore,  who are predominantly immigrants and African-Americans, 32BJ SEIU is the largest property service workers union in the country.