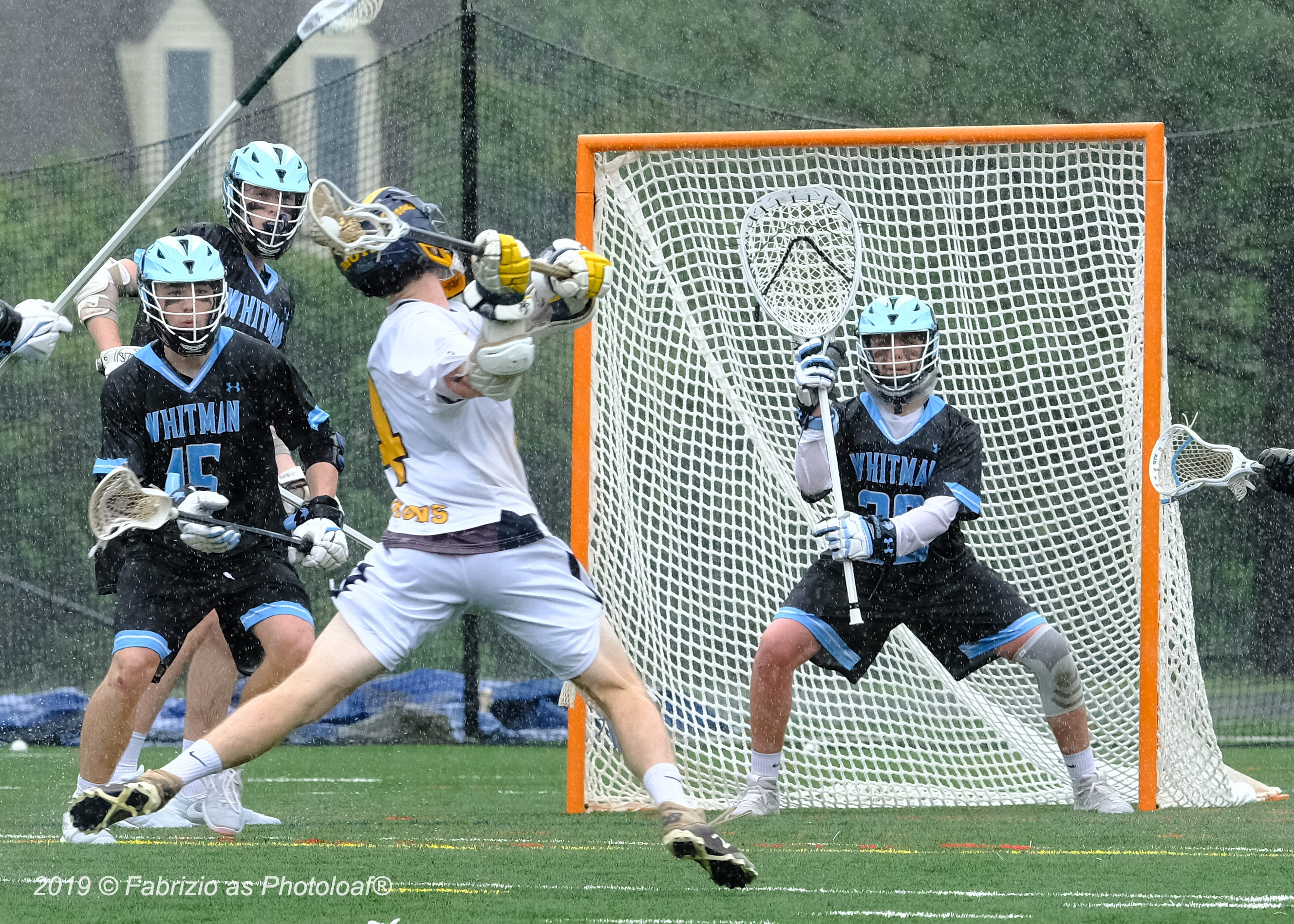 4A West MPSSAA Lacrosse Playoffs Off to a Great Start
Bethesda, MD, Walt Whitman High School, Friday, May 10
Skies threatened, rain came, then so did the sun as advancing rounds of MPSSAA lacrosse playoffs got off to a great start.
In the opener it was the local as a boys visitor, Walt Whitman against the higher seed and home team, Bethesda-Chevy Chase (BCC).  In the night cap, to borrow a baseball term, it was the girls' turn.  Walt Whitman faced off against Walter Johnson.
The first game was a thriller.  As the rains dropped in the second the BCC Barons and Walt Whitman Vikings poured in goals.  Things slowed down in the second half.  The Barons held a 2 point advantage late in the fourth quarter. Finally, the Vikings found a way to rally with less than one minute on the clock remaining to tie the game 12 apiece.
Suddenly, it was win time with a new clock of four minutes.  Strategically, Whitman held ground during the period against BCC's attempts only to cause a force error behind their goal.  Unfortunately, this gave BCC a chance to go for the win.  With 29.6 seconds left BCC located the back of the net to survive and advance, 13-12.
Sunny skies greeted the Walt Whitman girls, who found the going a little easier against Walter Johnson. Call this a classic rivalry between schools these North and Western Bethesda neighborhoods who put on a great game.  Masterfully, controlling the game  the Vikings held off a late surge by the Wildcats to survive and advance in a 12-7 win.
Both winners move to Monday's third playoff round.  In boys lacrosse BCC will face Churchill, the top seed, at Wootton High School at 7:15 p.m.  The Walt Whitman girls will travel up to Potomac to take on Churchill, the top seed on their home field.  Winners from this West round will advance to the Regional finals to be contested at Gaithersburg High School on Wednesday, May 15.
Sherwood boys in the 4A North, faces Urbana, in Urbana this evening at 7:15 p.m.   Coincidentally, Sherwood's girls play at home, also against Urbana at 7:15 p.m.
Group series of photos to follow.
All images copyrighted 2019 © Phil Fabrizio | PhotoLoaf® for MCM
Follow Phil Fabrizio at  @PhotoLoaf for updates and game coverage of the continuing MPSSAA LAX playoffs.