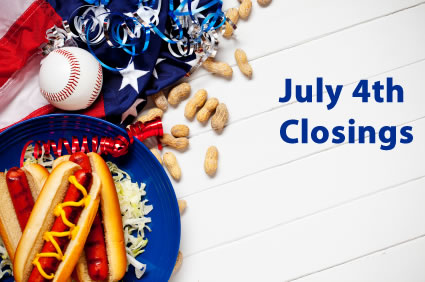 4th of July: What's Open, What's Closed
Here is a look at what's open and what's closed in Montgomery County on July 4:
Montgomery County Government
County Offices – closed
Libraries – closed
County liquor stores – open from 10 a.m. to 6 p.m.
Recreation – indoor and outdoor aquatic facilities will be open as scheduled. Administrative offices, senior centers and community centers are closed; all classes, including aquatics classes, are cancelled.
Ride On – Saturday schedule
Metrobus – Saturday schedule
Metrorail – 4th of July special service
TRiPS Commuter Stores (Silver Spring and Friendship Heights) – closed
Refuse/recycling pickup – no collection (slide day, all collections will be made one day later)
Transfer station – closed
Parking at public garages, lots, curbside meters – free
MCPS Administrative Offices – closed
State offices & courts – closed
Gaithersburg
All city facilities – closed
Recycling – shifts to Saturday, July 6 (if Thursday, July 4 is your recycling day); bulk pick-up items will be collected Thursday, July 11
Miniature Golf Course and Water Park at Bohrer Park – open 11 a.m. – 7 p.m.
Skate Park – open 3 p.m. until sunset
Rockville
City Hall – closed
Recycling and refuse collection – shifts by one day
F. Scott Fitzgerald Theatre and Box Office – closed
Croydon Creek Nature Center – closed
Rockville Civic Center Park Offices – closed
Glenview Mansion – closed
All Community Centers – closed (Lincoln Park, Twinbrook, and Thomas Farm)
Rockville Senior Center – closed
Parking fees at city-owned meters – free
Rockville Swim and Fitness Center – will close at 6 p.m. No Swim center classes on July 4 and July 5
Montgomery College – all campuses closed