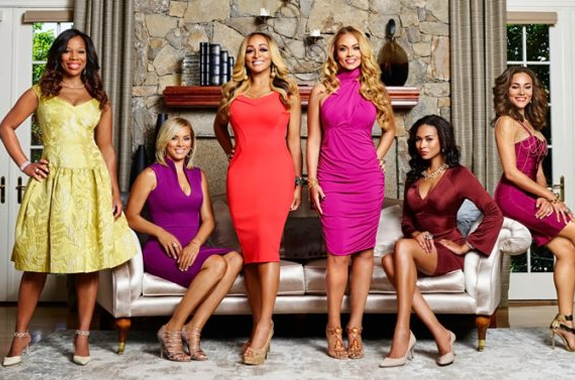 50 Shades of ButtGate—The Real Housewives of Potomac Recap Week 9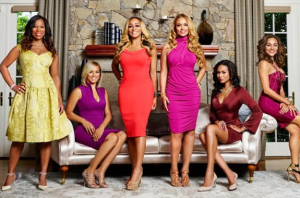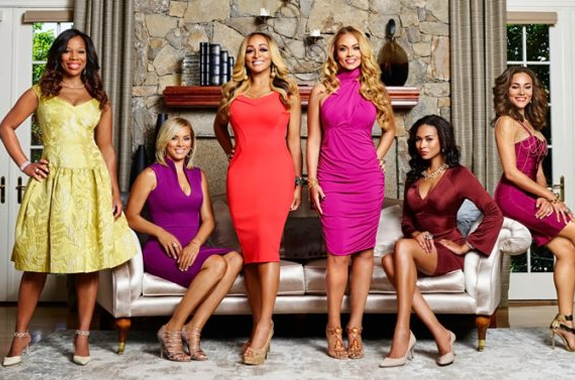 I would be remiss if I didn't apologize for skipping my recap duties last week. I was traveling and the gremlins messed with my DVR settings. The good news is you can skip a week or more with the Housewives and hop right back on the crazy train without missing a psychotic beat.
So, here we are.
Robyn and Gizelle met for lunch and toasted new beginnings which they totally stole from Ramona in NY who is forever starting over and promising not to be a total whack job any more. But her crazy eyes betray her every time just like Robyn's off-kilter non-marriage/roommate/significant other status with Juan throws off Giselle.
It is a vexing situation but Robyn was coughing up no answers so Gizelle, in a literal turn of events, remained bedeviled as she munched on her deviled eggs.
Programming Note: This meal signals the first time in Housewife history a woman has ordered anything with mayonnaise.
I'm telling you, Gizelle gets more real every week, people.
Flash to Katie in the backyard gardening. We know this because she is sniffing a flower and has on a jaunty gardening hat just like a Town and Country photo shoot. Her girlfriend popped in and the talk turned to gun shy Andrew. All that gardening has gotten to Katie as she is lookin' at old Andrew through rose colored glasses.
Katie explained that although Andrew may say he's not ready to get engaged, she's onto him, Taking a Grand Canyon sized leap in logic, Katie theorized that because he is playing more golf than ever, just like a lot of married men, he must be teeing up a ring.
Poor Katie, her game has veered onto the cart path and deep into the rough.
So, apparently, we missed Karen's big "O'Gala" last week. The soiree was held at Chez Huger despite the hideous, laminate kitchen. The event gathered people to let them know Karen will be gathering them together soon for a bigger party to raise money for Alzheimer's.
According to Katie, it was a "Podunk cocktail party" with congealed meatballs and sparse attendance. Hell hath no fury like a gala-girl invited to fund raise for someone who refused to help her with the fundraiser she might maybe possibly have one day.
Doesn't Karen know that Katie goes to "you know, three galas a week" like it's her J-O-B?
Speaking of the Huger's, in the mother of all awkward moments, we spend time in the garage with the soon-to-be empty nesters as they ponder what to do with all their impending free time and empty house.
The black Bill Gates (BBG) looked a little frightened of his wife as she purred and clawed at him. We then discover his fear is justified as Karen revealed her alter ego, Shakra or Chakra or maybe it's Shakira and her hips don't lie.
Either way, the BBG was looking for an escape hatch as she grabbed his hand and dragged him inside, bad weave and all.
Back to Katie on the patio taking the gardening shears to poor Gizelle's reputation. Someone gave Katie the bad advice that if you have nothing nice to say, you say it with a pageant smile. She made Gizelle sound like a hooker with a heart of gold and then adjusted her sash, dropped her eyes and flashed her pearly whites like she plead for world peace.
It's party time people– Whoop. Charrisse is ready for AARP and throwing an 80K bash at the Carnegie Library in DC. You know, just like all of us here in Montgomery County.
In Housewives land, party equals drama and Charrisse had more drama than consonants. Not only did Ashley continue to badger Karen as to why she was unceremoniously kicked out of Karen's Charm School for Wannabees, but ButtGate exploded on the scene.
Ashley's Aussie AARP veteran, Michael, gave Andrew's butt a healthy pinch on the dance floor. Gizelle and Robyn were determined to get to the bottom of ButtGate. Is this something white men do? Does this mean Michael likes men? Who could think Andrew was attractive in that hideous shirt?
These questions will remain unanswered because it was time for Charrisse to rap. In the Vanilla Ice portion of the evening we suffered through a rap Charrisse penned when she was Sweet 16. Thank you to the editing gods for only showing us snippets of her teenage prose. Whatever her day job is, it is safe.
In addition to dropping boulder sized hints about marriage, Katie whined about everyone's obsession with race. This is a question viewers have been pondering since way back in Episode One, so join the club missy.
In an unrelated note,,, Katie toasted "l'chaim" a couple of times in this episode just to remind us she is serious about this Judaism thing.
My son watched some of this episode with me (partly as punishment for readjusting the DVR last week) and he summed it up best…
"Things escalate quickly on this show.."
Yes they do, and next week will be no exception so stay tuned.