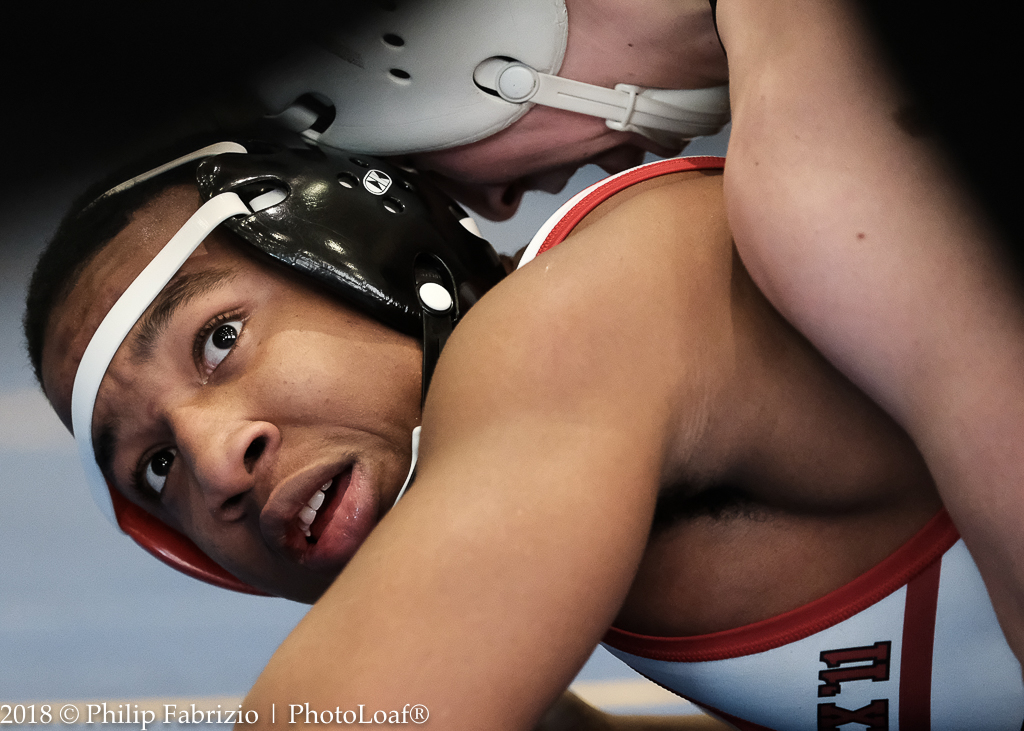 57th Annual Montgomery County Wrestling Championship (PHOTOS)
Gaithersburg, MD: Saturday, February 16, 2019
MCPS's Montgomery County 57th Annual Wrestling Championship Tournament was hosted at Gaithersburg High School on February 15 and 16th.  Twenty-five public schools and 254 student-athletes competed across 14 weight classes during the  two day tournament.
So much for the general stats on the event, it was my first ever County Championship.  Boy, I had fun.
I am no stranger to wrestling tournaments.  I have covered many in Northern Virginia for a client for about 10 years.  So why the delay here in Montgomery County on coverage? Best said, the tumblers all fell into place for me on this past Saturday so that I could sit and cover the entire day.
I was able to see our best select wrestlers compete prior to state regionals.  This is pretty neat since I will shortly disappear south for a well deserved vacay.
But A Crackpot Sports Photographer
Those who know me, know that I am not a crack shot sports wrestling reporter.  Consequently, I make it up being a sharpshooter around the mats and chose to share a few photo images from over the 6 thousand I shot on Saturday.
Before I end this blog let me thank all the athletic directors, tournament directors and Gaithersburg High School staff for making me feel welcomed.  You put up with my logistical positioning around the mats.  Thanks!
Next, just a small complaint, about media coverage to my sport editor associates.
Perusing, both the Washington Post and the Baltimore Sun on Sunday morning I found that their reporters ( "area of coverage assignments") did not cover this tournament.  That may be old news for those who attended past MoCo tournaments.
However, I feel that it is a disservice to the athletes and schools here in the MoCo.   Why, because when the Baltimore Sun can give a next day run down of all county tournaments to our north and east and the WaPo can only cover events in the city and across the river occurring all on the same day, something is not right.
Furthermore, those two publications don't have the breadth and depth of images I have to share with MoCo readers of MyMCMedia, nor did they share any of theirs to this great depth with their readers.
No worries , so here goes.
Tournament Results by Weight Class
106 – Champion Eric Liau (Wootton) 34-0, So. over Silas Patton (Damascus) 26-4, Jr. (Dec 5-3)
113 – Champion Jason Liau (Wootton) 32-1, So. over Christian Simpson (Bethesda Chevy Chase) 28-5, Jr. (Dec 16-9)
120 – Champion Alex Carbonell (Poolesville) 41-2, Sr. over Wafeeq Iqbal (Magruder) 34-2, Sr. (MD 14-3)
126 – Champion Siavash Sarvestani (Northwest) 35-2, Jr. over Michael Emerick (Damascus) 36-6, So. (Dec 5-3)
132 – Champion Eli Guttentag (Bethesda Chevy Chase) 38-3, Sr. over Paul Christenson (Sherwood) 32-4, Sr. (Dec 6-0)
138 – Champion Jacob Bernstein (Walter Johnson) 16-0, Sr. over Jose Echeona (Quince Orchard) 34-6, Sr. (MD 11-2)
145 – Champion Chris Sanchez (Sherwood) 29-0, Sr. over Drew Guttentag (Bethesda Chevy Chase) 34-5, So. (For.)
152 – Champion Colin Savage (Poolesville) 41-1, Jr. over Jeo Martinez (Bethesda Chevy Chase) 35-6, Jr. (Fall 1:23)
160 – Champion Sahid Antar (Springbrook) 33-2, Sr. over Andrew Creedon (Damascus) 33-11, Jr. (Dec 7-4)
170 – Champion Xavier Kresslein (Poolesville) 36-2, Jr. over Yusuf Higazi (Sherwood) 27-5, Sr. (Dec 5-2)
182 – Champion Timothy Furgeson (Damascus) 38-0, Jr. over Marquez Cooper (Quince Orchard) 30-5, Jr. (MD 13-4)
195 – Champion Austin Smith (Paint Branch) 37-0, Sr. over Aiden Beall (Damascus) 34-9, Jr. (Dec 3-2)
220 – Champion Elijah Baisden (Damascus) 42-1, Sr. over Wafeu Fuondjing (Paint Branch) 35-3, Sr. (MD 8-0)
285 – Champion Aimrick Nya (Springbrook) 34-3, Sr. over Austin Smith (Clarksburg) 31-7, Sr. (Dec 8-3)
All 2019 Montgomery County Championship Tournament final results provided via Trackwrestling.com
Photos to follow
Phil Fabrizio, as PhotoLoaf®
All images copyrighted 2019 © Phil Fabrizio | Photoloaf® for MCM