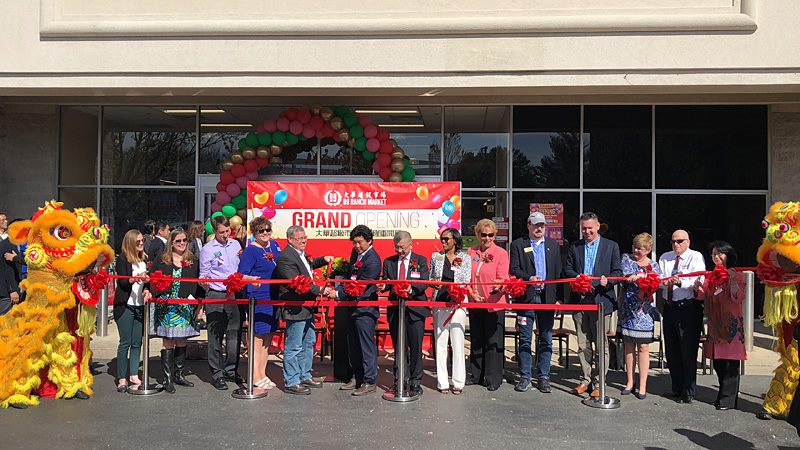 99 Ranch Market Opens First Store in Maryland
The Gaithersburg-Germantown Chamber of Commerce (GGCC) supported 99 Ranch Market and celebrated the grand opening of their Gaithersburg location by conducting a Ribbon Cutting Ceremony on Thursday, April 26. They are located at 110 Odendhal Avenue, Gaithersburg.  
It was an amazing ribbon cutting ceremony where members of the GGCC Board were given rose boutonnieres and there was a lion dance performance by the Tai Yim Kung Fu School. Plus, there were more than 200 customers waiting in line for their free surprise gifts. 99 Ranch Market offers a wide, competitive and impressive selection of items: fresh produce, specialty goods, and daily baked goods. The in-store hot deli section will also be serving Asian delicacies, providing a real taste of authentic Asian food. Free cleaning, deep frying and steaming services are available at the Seafood department. Learn more about them at: www.99ranch.com.
The GGCC is active in providing business-to-business networking opportunities throughout the year: a collective voice in local, regional, and state legislative affairs, professional development opportunities and other services that enhance the business environment.
The GGCC is located at 910 Clopper Road, Suite 205N, Gaithersburg, MD. To learn more about the GGCC visit us at www.ggchamber.org.
Find us on Facebook at: http://www.facebook.com/pages/Gaithersburg-Germantown-Chamber-of-Commerce/64339954570. Or on Twitter at: @GGCCNEWS.