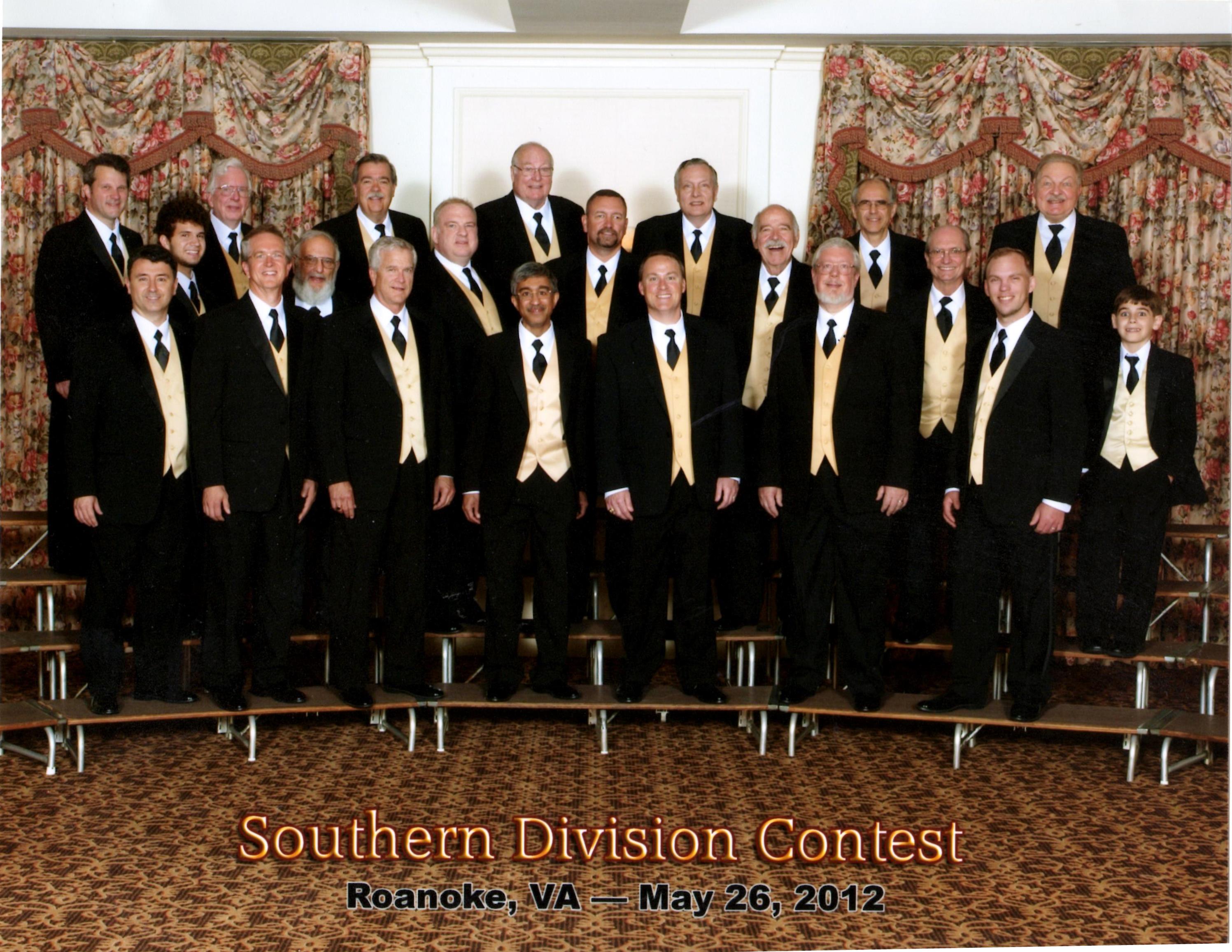 A Barbershop Chorus?
Most people know what a barbershop quartet is.  Even if they pay no attention to a capella music in general and barbershop music in particular, quartets are around.  You hear them, usually in a nostalgic setting.  Ah, the old days, when life was simple!
 But Harmony Express is a barbershop chorus.    We're fairly new, established in 2009, and presently have 21 regularly active members.  We're growing steadily, though.  Dave Bonnell, our Vice-President for Membership (and a State Farm agent in real life), has set a goal of 30 new men by the end of 2014, and I think we'll make it.   Dave is a very persistent fellow.
 A barbershop chorus does pretty much what a quartet does, just in a bigger way.  All barbershop music is four-part a capella harmony, sung by a bass, a baritone, a lead and a tenor.  The chorus scales up the music, so that, in a really large chorus like the Harmonizers of Alexandria, Virginia, you might have 40 basses, 20 baritones, 30 leads and ten tenors.  Why the difference in numbers?  Well, the highest part (tenor) carries better than the lowest one.  You need a lot of basses to set the foundation for chords, but just a few tenors to top them off.
 The Washington/Baltimore area is particularly rich in barbershop choruses.  I am currently in contact with twelve of them, planning a large joint celebration for the summer.  The choruses are based (alphabetically) in Alexandria, Annapolis, Arlington, Baltimore, Carroll County, Dundalk, Harford County, Frederick, Germantown (that's us), Patapsco, Potomac, and Washington.  They range in size from quite small—eight or so members—to quite large.  Alexandria routinely puts 100 men on stage for concerts.
 For singers with imperfect ears like me, the chorus offers comfort.  To adapt a famous Groucho Marx joke, I wouldn't belong to a quartet that would accept me as a member.  I make too many little mistakes.  There's nowhere to hide when you're the only guy singing your part.  If you hit the wrong note, people hear it.  It's different in a chorus.  Every man still needs the discipline to learn his part, but he has help getting it exactly right every time.
 The moral?  Maybe you're a guy who would like to try a capella music, but singing in a quartet seems challenging.  Well, go ahead and join a barbershop chorus!   Check mine out at harmony-express.org.