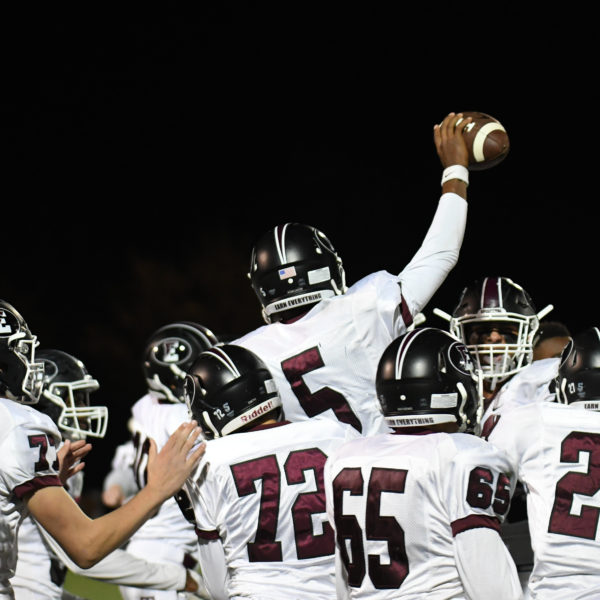 A Bittersweet Senior Night at Georgetown Prep (PHOTOS)
Sixteen Little Hoyas began their last home game marching out to mid field with parents, friends, and relatives to celebrate for some what was four years of athletic endeavors that consummated on this Friday Night.
In a matchup between two of the top DMV football teams, Episcopal of Alexandria and Georgetown Prep of North Bethesda, Prep seemed to have the advantage of emotion and crowd support for most of the first half.  Episcopal's student body arrived after the start late no doubt due to the heavy Beltway traffic, to find their Maroon squad behind by 7 points.
Prep led by running back T. J. Dozier and quarterback John Ridgway kept Episcopal off balance most of the game.  Defensively, both teams had numerous 3 and outs during the first half and traded punts and field position all evening.
Prep staged its best defense late in the fourth quarter when it held Episcopal on four downs within Prep's 2-yard line culminating in a goal line stand at the one.  On the next offensive series, Prep began at the one.  Episcopal's defensive back Vincent Notzon made the play of the game on very next down when he crashed through Prep offensive line and put his helmet into the gut of T. J. Dozier 4 yards deep in the end zone causing a fumble.  The loose ball was picked up by Luiji Vilain for a touchdown and quickly the momentum changed with the 10-7 Episcopal score.
Seven minutes later, after a Perris Jones touchdown, time ran out on the Prep seniors and they watched as Episcopal completed their undefeated conference season with the IAC title in hand and a 17-7 win over Georgetown Prep.