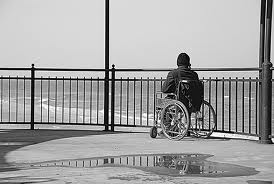 A Cautionary Tale
What is your single most valuable asset? It's not your house, your car, your artwork or your jewelry. In fact, it's your ability to earn an income. Without that, everything else may never have come to be, or may be lost. If you think I exaggerate, take a look at this chart:
Potential Earnings to Age 65*
| Age | $75,000 | $100,000 | $150,000 | $200,000 |
| --- | --- | --- | --- | --- |
| 30 | $4,534,656 | $6,046,208 | $9,069,312 | $12,092,416 |
| 35 | $3,568,156 | $4,757,541 | $7,136,312 | $9,525,083 |
| 40 | $2,734,444 | $3,645,926 | $5,468,889 | $7,291,852 |
| 45 | $2,015,278 | $2,687,037 | $4,030,556 | $5,374,074 |
*Assumes 3% annual increases
A 35 year old making $100,000 has the potential for over $4.7 Million by age 65. Not chump change.
If we assume for this discussion that one wants to work, and earn income, the question naturally follows: what if there is a disabling illness or injury?  Who will provide income or pay the bills. How long will savings last?
We all have plans for life. We all try to be successful and make a good living to support our family. A recent study of middle class workers (making between $50K and $100K per yer) found that 1 in 5 are having trouble making ends meet and 1 in 3 are not reducing debt (although both were identified as "highly important goals"). With every dollar stretched, a disability cutting off income poses a very real and substantial risk to even the best laid plans. We really need to include protecting income as part of our plan.
When we refer to disabilities, what are we talking about? It may surprise you to know that 90 percent of disabilities are caused by illness, while only 10 percent are caused by injuries. The most frequent causes of disability claims are:
Musculoskeletal / connective tissue: 27.5 percent
Cancer:14.6 percent
Injuries / accidents: 10.3 percent
Cardiovascular: 9.1 percent
Mental / psychiatric disorder: 9.1 percent
Neurological: 6.9 percent
Maternity related: 5.1 percent
Source: 2011 Long Term Disability Claims Review, council for Disability Awareness
Although life insurance is important to protect the family in the event the breadwinner dies, disability income insurance is equally, if not more, important. Between the ages of 35 and 65 the likelihood of becoming disabled is greater than the likelihood of dying.
So what is our safety net in case of disability? Here is where the old adage "An ounce of prevention is worth a pound of cure" really rings true.
Workers compensation is only for job related injury or illness. Most disabilities are NOT job related. Workers comp will not be available for a self-employed person.
State temporary disability benefits are only available for employees in NY, NJ, CA, HI and RI, and even where available are extremely minimal. Some might even describe them as minuscule.
Social Security Disability benefits have a very strict eligibility threshold and it may take a year to process a claim. Two-thirds of initial claims are rejected and the appeal process is lengthy and complex.
Group Long Term Disability coverage may be provided by an employer, but it is not required. If provided, the benefits are income taxable, limited in scope and amount, and the coverage is typically not portable. If one leaves the employer, the insurance protection is left behind.
Individual Disability Income insurance provides the best option for maximum protection in terms of amount of monthly benefit, favorable contract language and options, as well as portability. If the premiums is paid with after-tax dollars (and most are) the benefits when received are income tax free. This will likely be very important at a time when the policy benefits are the only family income.
Should one get individual disability income insurance? Let me it this way: If what one does is a hobby, and the income is not important, one does not need disability insurance. 
Disability income insurance is medically underwritten and the premium rates are based, in part, on the age of the applicant. For these reasons, it is best to apply when younger and healthy to get the best rates and be confident the application will be approved.
Better policies will define being "disabled" as unable to perform the substantial and material duties of one's own occupation, and will recognize a medical or legal specialty as the occupation. In this way, even if the insured can and does work in another occupation, and earn income, the policy will still pay the specified benefits.
Optional riders will include: (1) residual or partial disability- so that if one can still do their job but the disability has caused a reduction of income, the carrier will pay a percentage of the regular benefit, (2) future increase option – to be able to increase the monthly benefit with only proof of higher income  and without any additional medical underwriting, (3) COLA -cost of living adjustment, to increase the benefit if the disability lasts more than one year.
If you take away nothing else from this article, keep in mind that it is very important to buy disability income insurance sooner rather than later (as it may become too late) and to consult with an insurance professional who can guide you through the forest.