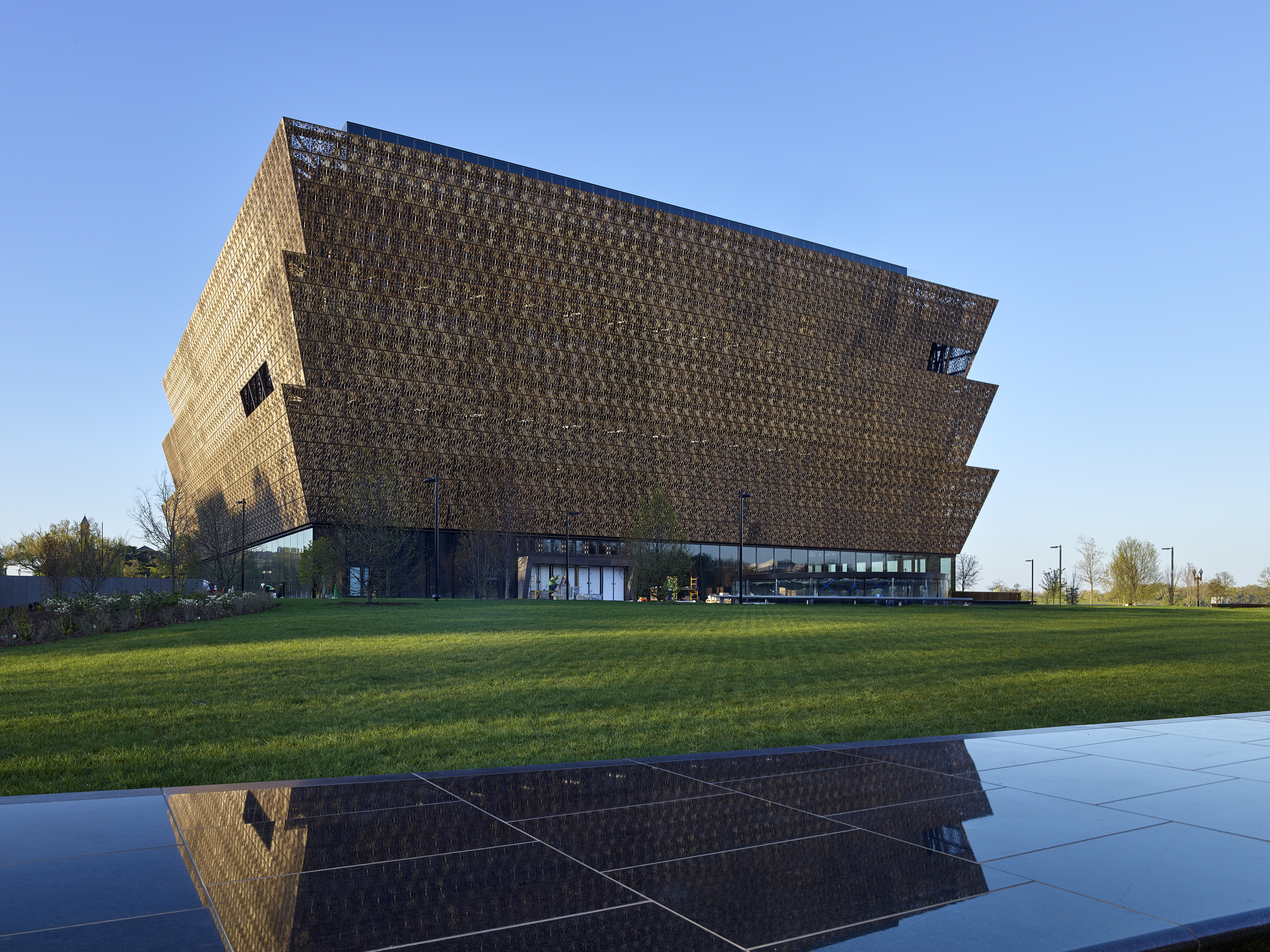 A Daring Design Distinguishes the New Museum on the Mall (Photos)
Architectural talents from four design firms came together to create the stunning structure that now stands on the National Mall. The Freelon Adjaye Bond/Smith Group chose to create an exterior for the National Museum of African American History & Culture that is neither granite nor stone.
Lead designer David Adjaye developed a design for the 400,000-square-foot building that draws from both African and American History. The museum's exterior "Corona" is made of 3,600 bronze-colored cast-aluminum panels. The ornate pattern on the panels is a tribute to the 19th-century ironwork of enslaved craftsmen in New Orleans. The light within the museum glows through the Corona's openings at night, making the museum a distinctive vision on the National Mall.
The three-tiered shape of the museum resembles a traditional Yoruban column that is topped with a crown or corona. The building also has a "Porch," which is the location for the main entrance on Madison Avenue. The landscape design enhances the building located on Constitution Avenue between 14th and 15th Streets, N.W. The spaces surrounding the museum are meant to evoke the presence of water, including a reflecting pool at the south entry.
The museum's designers included sustainability as an important element for the structure. The building earned a Leadership in Energy and Environmental Design (LEED) Gold certification with such features as photovoltaic panels that produce electricity to heat the museum's water.
It costs $540 million to construct the museum and took a little more than four years to complete. Sixty percent of the building is underground with four concourses below ground and four floors above the first level main entrance. The structure has exhibition galleries, an education center, theater, auditorium, café, store and offices.
Adjaye is an award-winning architect who also designed the Nobel Peace Centre in Olso, Norway and the Museum of Contemporary Art in Denver. He is the recipient of the 1993 Royal Institute of British Architects award. He has also been awarded the W.E.B. Du Bois Medal from Harvard University and the Order of the British Empire for his services to architecture.