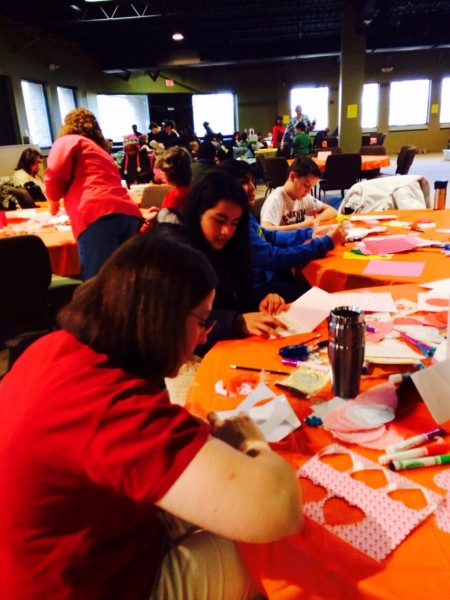 A Day of Service at Seneca Creek Community Church (Photos)
Dozens of volunteers of all ages turned out for "A Day of Service" activities and projects at Seneca Creek Community Church in Gaithersburg on Jan. 20. The event, one of several of its kind in Montgomery County on Dr. Martin Luther King, Jr. Day, brought community members together to serve.
Some of the projects that were completed at Seneca Creek Community Church, included: assembling move-in kits for Carroll House men's shelter, designing cards and writing letters for U.S. troops, making valentines for nursing home residents, creating place mats for NIH Children's Inn and Seniors at Meals on Wheels, making bag lunches for Carroll House and Community Vision shelter, sewing dog toys for the Animal Shelter and making "adopt me" posters, designing thank you banners for local police and fire departments, knitting scarves and blankets for the homeless, making cards to thank a service worker and putting together personal care kits that were assembled for Central United Mission. There was also a blood drive going on throughout the day.
Montgomery County Councilmember Hans Riemer was one of the volunteers who spent his day off helping others at this event.
"It is really a nice morning. There are hundreds of people here," said Riemer, who helped assemble a transitioning kit for the homeless.
Lead Pastor Mark Tindle said this event is a great opportunity for the church to put into practice the core value of its faith, which is "to serve" others.
"The turnout is great," said Tindle, who noted this is the first year the church has participated.
Gaithersburg resident Sooky McFadden was one of the event's co-organizers and described the event as tremendous. "We are just thrilled with the turnout we had today," she said.

Related posts: