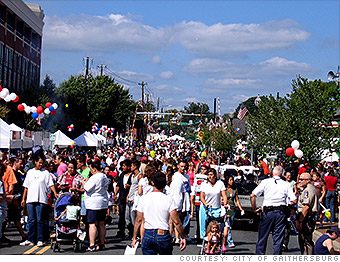 A Guide to 2017's Summer Festivals, Concerts and More
It's officially that time of the year where the days are longer, warmer and sunnier.   Here's a list of some places and activities where you, your family and friends can soak up some sun while enjoying music, food, art and culture.
Sandy Spring Community Day, 12 p.m. to 4 p.m. June 24 at the Ross Boddy Community Recreation Center, 18529 Brooke Road, Sandy Spring. Family event with performances of a community choir and dance, children's games, moonbounce, DJ, K-9 demonstrations, face painting, line dancing, food and craft vendors. Rain date is July 8. Admission is free. Click here for more details. 
Bethesda Concert Series Continues, 6 p.m. to 8 p.m. June 22 at Veterans Park, Woodmont Ave. & Norfolf Ave in Bethesda. This series, produced by the Bethesda Urban Partnership, will feature free Thursday evening concerts during May, June, and July. The concerts offer a diverse range of music including rock, funk, jazz, swing, and reggae. See schedule here. 
Rockville Pride, 4 p.m. to 6 p.m. June 24 to be held at Montgomery College Rockville Campus, Gudelsky Institute for Technical Education Center. The City of Rockville's Human Rights Commission joins Montgomery College and local organizations for a multigenerational program designed to inspire, empower and provide services to the LGBTQ community. Free event. More details available here. 
Heritage Days, 12 p.m. to 4 p.m. June 24 & June 25 at various locations. Sponsored by Heritage Montgomery, this free festival highlights historic, cultural and outdoor recreation sites with exhibits, live music, activities for children and more.  Here is a complete list of locations and activities.
Beer Tasting, 6:30 p.m. to 8 p.m. June 28 at the Holiday Park Senior Center, 3950 Ferrara Drive, Wheaton. Taste different beers, appetizers and live music by Ellen Tenenbaum.  Pre-registration is required. Cost is $9. Click here for more information.
Silver Spring Concert Series Continues, 7 p.m. to 9 p.m. June 29 at Veterans Plaza at the Civic Building, 1 Veterans Place in Silver Spring. Dancing, face painting and games for kids. The concert series also features a raffle that gives away prizes for adults and toys and gifts for kids. Free admissions. Download flyer for a full schedule.
Summer Fest at Bohrer Park, 5 p.m. to 11:30 p.m. July 1. Will take place at Bohrer Park at Summit Hall Farm 506 South Frederick Avenue in Gaithersburg. Street festival, multiple stages of live music, food, activities for kids and fireworks. Summer Fest details here.
Freedom Fest, 11 a.m. to 7 p.m. July 4 at the Republic, 6939 Laurel Ave., in Takoma Park.  It's a celebration that commemorates the repeal of the government's restriction of beer sales while celebrating the unification of the local brewing community.  Ticket prices vary from $20-$60. Here's more details. 
Red, White & Brews, Begins at 6 p.m. July 8 at Whalen Commons, 19701 Fisher Ave. in Poolesville. Inflatables, food vendors, farmers market Stop by the Beer & Wine Garden for Reds & Whites provided by Rocklands Farm and Brews provided by Barley & Hops. $5.00 per glass Mindy Miller & Friends performing in the beer garden.  This is part of the town's "Friday on the Commons" series. Click here for more.
Up, Up & Away, 8:30 p.m. July 14 at Whalen Commons, 19701 Fisher Ave. in Poolesville. Kids Activities, food vendors, farmers market, and the town's first movie of the season UP. Click here to be directed to the Town of Poolesville's website.
Mariachi Flor de la Toloache, 7 p.m. to 9 p.m. July 15 at the BlackRock Center for the Arts, 12901 Town Commons Drive in Germantown. BlackRock will debut Mariachi Flor de Toloache to their summer concert series.  Their 2014 self-titled debut album earned a Latin Grammy nomination in the Best Ranchera category. Event is free. More about BlackRock's summer concert series is available here. 
Peace Day Party, 3 p.m. to 6 p.m. July 16 at the Botanero Restaurant & KF Village Green, 800 Pleasant Drive in Rockville. The peace party will celebrate Mattie Stepanek's 27th birthday.  More details about Peace Day is here. 
2017 National Night Out, 5 p.m. to 8 p.m. at the Fair Hill Shopping Center in Olney. Hosted by the Olney Chamber of Commerce, it's a family event that will feature food, music, police cruisers, horses, rescue dogs and more.  Admission is free.  Check out more details on the Olney Chamber of Commerce website. 
The Montgomery County Agricultural Fair, times vary, August 11-19 at 501 Perry Parkway in Gaithersburg. Founded in 1949, the Montgomery County Agricultural Center has been home to the Montgomery County Fair since its creation.  Sitting on 62 acres, the Fair has more than 50 buildings that are filled with more than 5,000 animals every year.  The Fair has animals, entertainment, food, commercial, home arts, arts and crafts exhibits, and many others for the whole family to enjoy.  Ticket information is available here.