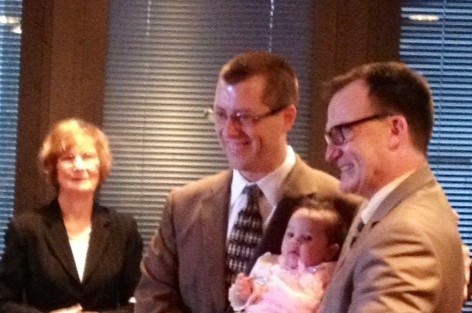 Same Sex Marriage: Making History in Montgomery County (Photos & Videos)
UPDATED As of Jan. 1, same sex marriage is legal in the state of Maryland. Although the courthouse was closed on New Year's Day, it reopened on Jan. 2 with several same sex weddings on the calendar. MyMCMedia's Sonya Burke met some of these local couples who wasted no time getting to the altar in Montgomery County and changing their status from single to married for the new year.
Pictured below: Jeffrey Aberle and Joe Rouch who are  the first same-sex couple to wed in Montgomery County. After their historic civil ceremony, the newlyweds said they have been waiting over 13 years for this moment.  They shared the event with family and friends, including their baby daughter.
Washington, D.C. residents Keith Bullock and Tyranny Smith were the second same-sex couple to tie the knot.  After their civil ceremony,  they shared details about their love story, noting they met on Facebook just over a year ago and said they were excited to be one of the first couples to legally wed in Maryland.  The newly married couple hopes to add children to their family in the years ahead.
Bethesda residents Marie Malave' and Sara Kulow's love story began at work this past spring.  They said they told few people of their plans in advance of today and they hope to hold another ceremony and reception with friends and family at a later date.
Clerk of the Circuit Court Loretta Knight officiated at all of the Jan. 2nd same sex marriage ceremonies and she said dozens more are scheduled  in the coming weeks.