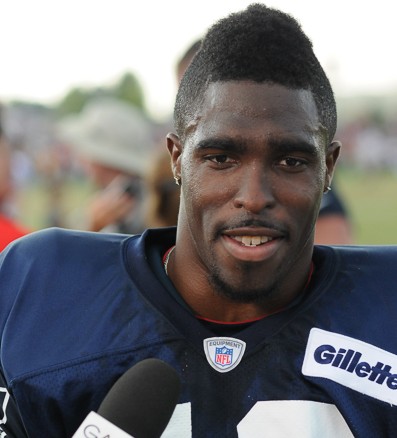 A Little Bit of Luck and a Lot of Heart (Photos)
As I sit and watch the Redskins/Patriots pre-season game I already know he has what it takes. He is Travis Hawkins, #42, and a rookie on the New England Patriots – a MoCo local.
I first put my lens on Travis about 2005 when he played for Coach Dave Mencarini at Quince Orchard. The hey-days for QO Football were underway and the Cougars would eventually march towards a 4A State Championship in 2007. Travis had a hand in that. But so did many other high school Division 1 standouts at QO. College coaches wore out a path along the Bermuda sidelines at that Darnestown football field from 2005 thru 2013.
Ralph Fridgen, then Maryland's Head Coach made the trip and the pick and offered Hawkins a scholarship to College Park. My lens followed Hawkins (and Zach Kerr) on the sidelines at Byrd Stadium for two years. He was always a bit shy – untested and under-appreciated at CP when a change to head coach leadership left him without a scholarship. Travis quickly moved on to Division 1A Delaware – and I lost track of him until this years' NFL draft. Now Bill Belichick would be his new head coach.
The Patriots were in the greater DMV this past week, Richmond VA specifically. The Pats and Skins held three days of joint training at the Bon Secours Training Center just west of the North Boulevard exit on I-95. I was on a photo assignment for the Gaithersburg paper, The Town Courier.
The media access was all arranged through both NFL organizations – my sportswriter and I would have a chance to interview Travis after practice – should he still be on the team.
Tuesday August 5th's practice ended and we were waiting for Travis in New England's end zone just five yards away from a furious media feeding frenzy that engulfed the Pat's QB Tom Brady.
Travis walked towards us reaching the writer first. After a quick intro by the writer Travis turned towards me and that's when I saw his great smile – I knew he had found his dream – I have seen that before. He reached out to me we shook hands and then shoulder bumped – he in his sweaty NFL jersey and me in my sweaty Joe Banks golf shirt. Nine years – he still smiled for the local camera guy.
The pyramid gets smaller the closer you get to the top. I know that. I worked for an organization of 800,000 and rose up the ranks to the top 2%. Travis needs to be one of 56 to make the cut and see a pro paycheck. He is positive, he is smiling and he is giving it his best. He knows former coaches, friends, family and the camera guy are all in his corner.
Now all he needs is a little bit of luck.
He has got the heart.