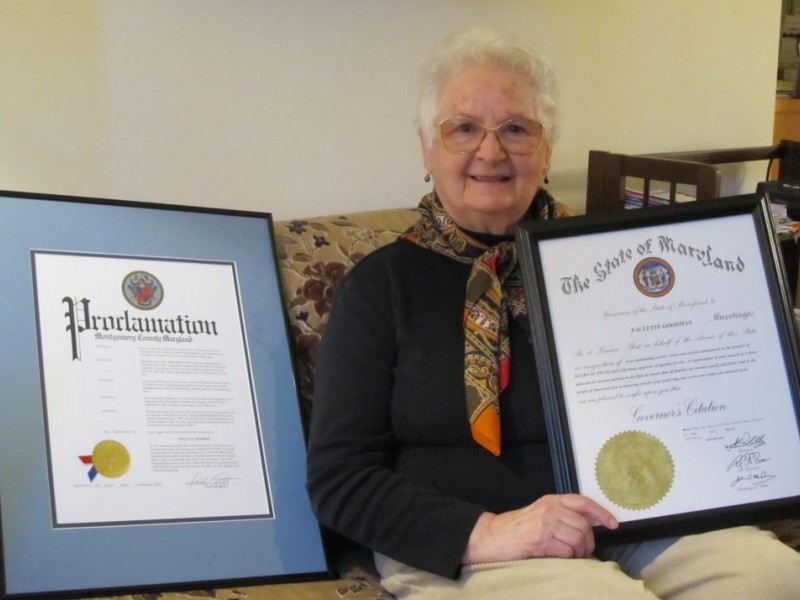 A Milestone Year for Paulette Goodman's Advocacy Efforts
For Paulette Goodman, Friday, June 26 began as a typical day at her residence at Riderwood retirement community. In the morning, she ate breakfast and checked her computer's inbox.
But later, she began receiving congratulatory phone calls and emails.
Ms. Goodman is considered the "Founding Mother" of the Metro DC Chapter of Parents & Friends of Lesbians and Gays (PFLAG), and on that summer day in 2015, the United States Supreme Court issued its ruling recognizing gay marriage nationwide.
"I never thought I'd see marriage equality in my lifetime," recalled Ms. Goodman, 82. "I simply said 'Halleluiah.'"
The decision marked a milestone in her lifelong journey as a social justice advocate. Born in pre-World War II Paris, France, Ms. Goodman survived the Holocaust era, a tragic time in which she lost family members and close friends.
"As a child, I knew what it was like to be afraid and ostracized. Just going to the movies on Thursday afternoons with my friends, forbidden to Jews, could have meant tragedy for the whole family had I been caught in a roundup near the theater," she described.
Since the early 1980's, Ms. Goodman has "fought the good fight," in her words, on behalf of the LGBT community. She served as the first chapter president of the Metro DC PFLAG chapter, working out of her kitchen with a cadre of volunteers. In 1988, she was elected as the president of the national organization, completing a four-year term.
Her work continues at Riderwood. She is the co-founder of a PFLAG Support Group that provides anonymous one-on-one counseling for residents, distributes information & literature and participates in events like the retirement community's Diversity Expo and Health Fair. The support group even sponsored a screening of Gen Silent in June.
Despite the Supreme Court ruling, Ms. Goodman notes that her work is not finished. "I am committed to advocating for understanding and acceptance for transgendered people in the United States and for the LGBT community internationally in places like Russia and certain parts of Africa where people still face persecution and even death."
Sixty-six years ago, she moved to the United States with family members. "The quest for social justice has taken me all over the country working with people from all walks of life, religions and ethnicities," noted Mrs. Goodman. "Nothing is more important than family, and that's why an organization as dedicated to social justice as PFLAG is a blessing."
"The personal stories of people I've counseled are compelling to me. A gay teenager once told me that he lived with the inner fear of losing his own family because they might not understand his truth," Ms. Goodman described. "Giving comfort and a voice to a young adult like him has been a motivator throughout my life."
Taking a moment to reflect on the events of 2015, she simply said, "We've come a long way…a very long way."