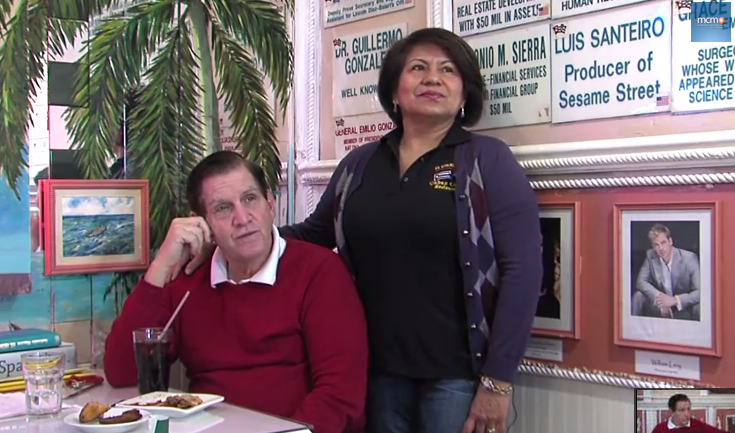 A Piece of Cuba In Montgomery County (VIDEO)
Photos of famous Cuban-Americans and plaques with names of Cuban professors, journalists, and business people, adorn the walls of The Cuban Corner, a family-owned restaurant that has been opened in Rockville for the past 19 years.
The smell of spices and seasoning from its famous ropa vieja- shredded beef with rice, beans- along with Cuban music on the background, and paintings on the wall referring to Operation Peter Pan brings a piece of Cuba to Montgomery County.
"The plaques on the walls it's my husband's idea. I do some of the decorations, and I like the place to look neat and Caribbean. I think we have attained some of it," said Isabel Cabrejas, owner of Cuban Corner.
Isabel's husband, Joaquin Cabrejas, fled Cuba for Florida in 1962. According to Joaquin, he is one of the 14,000 unaccompanied minors that were able to leave the island during the 60s.
"When I arrived in Saint Mary's [a Florida catholic school] they put me in seventh grade. A week later, I was descended down to kindergarten to be among 3 to 4-year-old kids because I couldn't speak the language," Joaquin said.
On December 17, after more than 50 years living in the U.S., Joaquin witnessed one of the most significant change in U.S. foreign policy in Cuba. President Barack Obama announced the reestablishment diplomatic ties between the countries and Alan Gross, a USAID subcontractor who lived in Potomac, was released from a Cuban prison.
But for Joaquin, there's much more to be done.
"I'm all for the freedom of someone who has been incarcerated in a concentration camp. [But] how about have some concessions. … such as number one free election, number two the ability for any Cuban to come as they please. Number three the release of political prisoners," Joaquin said.
Joaquin said he will forever fight for the cause of freedom. His wife, Isabel, said the couple made sure to teach their three children that liberty is something to be treasured.
"Being married to a Cuban is loving liberty, and knowing the meaning of liberty and what people go through to attain that. My husband has suffered very much due to communism, and I don't wish that upon anyone," Isabel said.
Although the U.S.-Cuba relations have been normalized, Joaquin remains hopeful for a better future for the Cuban population.
"We gotta take it one step at a time. We gotta get rid of that mentality. We've gotta get rid of that dependency on government," he said.