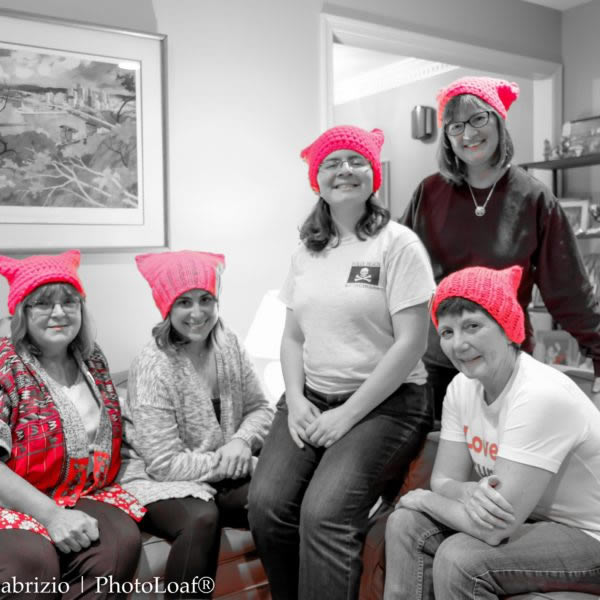 A Walk With Linda
I have known Linda for nearly 20 years. Back in the day we were members of a local Gaithersburg training group preparing for Marine Corps Marathons. The larger group dispersed except for a small select number of runners and cyclist friends who have been getting together religiously for decades on Saturday mornings to train, to run or bike around Montgomery County and the District. To say we know each others leanings and positions would be an understatement – as group members we do tease each other during Saturday mornings to elicit group laughs to pass the time.
We also know when to sit in and just listen.
This blog is a conversation about a "walk", the National Women's March in DC on January 21, 2017. It is about the lead up to, the day of the March, it's afterlife, the fall out and my photographic involvement as an observer. It was during a late December run that I approached Linda about her involvement and asked if I could tag along and together we would document that event.
Linda moved to the National Capital Region more than 30 years ago because she was an activist. She came here to take a job with The Newspaper Guild, a union that represents journalists, and eventually became its national president. She resides now in Potomac, MD.
One day I asked Linda "why are you participating in the Women's March in Washington, is it issue related or just a curiosity?"  She said,  "It was issue-related.  Since the election, I felt as if women needed to be heard on a variety of issues. Those issues, from women's health and reproductive freedom to the very role that women play in our society, were front and center in the 2016 presidential campaign."
I then asked Linda if she was doing this alone or with a group? She said "Like many who live in Montgomery County and other local jurisdictions, I was called upon to help shelter and guide some of the many minions of marchers who descended on the Nation's Capital from elsewhere. Usually, when these national marches happen, I'm responsible for my own two feet and not much more. This time, I became innkeeper, tour guide and security consultant, for an eclectic group of neophyte protesters."
"I had four out-of-town marchers stay with me. Three had never marched or publicly protested at all, although my niece, Tania, does march with the band at West Virginia University. In addition to first-time protester Tania, there were Margaret, her mother, an engineer from Murrysville, PA, and Erica, a new mother who is a rising online entrepreneur from Chicago. Also joining us was Carol, a retired teacher from Florida. Erica, Carol and myself are alumnae of Northwestern University. Other than the mother-daughter duo, none of the marchers staying at my house knew each other before Friday, Jan. 20, when they arrived in staggered shifts at my Potomac home."
Linda later would say, "My role also was unique. As a resident of the DMV, I have always felt an obligation to show up for demonstrations and protests on issues that affect me and my immediate circle of cohorts, friends and relatives. This Women's March demanded more of me."
Linda and I text back and forth in the days leading up to that Friday night outlining my intention to meet the marchers, photograph them and talk the logistics of traversing Washington DC.
I arrived at Linda's at 9 p.m. Friday after photographing the Good Counsel versus Holy Cross girl's varsity basketball game. In Linda's words, " we dined on homemade chili and Costco cookies, [as] we shared our excitement, and some trepidation, about the next morning's adventure."
I learned from Linda that evening "that Erica had arranged for a busload of 65 marchers from Chicago. She began making arrangements and gathering riders the day after the election. Carol, an activist who has taught school in both Guatemala and Oman, joined the early planners of the march on Facebook. She flew into BWI. Margaret, and her daughter Tania, arrived around 10 on Friday night from Western PA."
As they sat around the dinner they all shared pre-election day horror stories, recalling how they were singled out in their own suburban neighborhoods because of their political affiliation.
Eventually, I asked Linda if she had ever done this [march] before? She reflected upon her Newspaper Guild presidency and said, "You can image how many protest, demonstrations and marches I've attended since 1984, probably more than 100".  Was she ready, I really didn't know but first she had something to deliver to the group.
Linda had in her possession five pink "pussycat hats" knitted by women across the country unable to attend the March. Each hat included a note of support and a women's issue they wanted to share. Linda handed out the hats after dinner and it became my means of recognizing them 'face and hat' in the crowd. It would also become the signature of the group it's photos to be shared eventually with those who knitted them.
After the photo session I left agreeing to meet them Saturday morning at the Cambria Suites Hotel in Rockville before 8 a.m. at the chartered bus for the debarkation point in DC.
Saturday morning, 8 a.m., January 21, 2017 – I knew that our running buddies were just sitting down to coffee and bagels at Quartermaine's in Bethesda after running on the CCT. Me, I was outside the Cambria in Rockville looking at a half empty bus idling at the curb, a camera strapped around my neck with no bagel or coffee in hand. I decided days earlier that I was not going to eat or drink Saturday for fear of having to find a Don's John in DC.  I traveled with two bottles of water in my coat pocket.
About then Monty, Linda's husband shows up in his car. He tells me that everyone got a late start and he was here to hold the bus for the groups' arrival. Just then Linda and her marchers pull up. Bus was to leave in 10 minutes. I asked Linda how the rest of the evening went and she said, "By the time we finished our chili and cookies and shared our stories, it was close to midnight. All the beds in my four-bedroom home were occupied, but none of us got much sleep". Neither did I, for I tossed and turned rolling over a map of DC in my mind plotting exit points along the parade route should things turn ugly.
All here we get on the bus – I head to the back and fell asleep only to be awakened near Greenbelt MD when Linda pointed out to us all that the Metro's Green Line station exit on the Beltway was closed and as we saw the parking lot was filled to capacity.
Linda in her words describes the ride from Rockville to the march "we headed to Rockville to meet the bus Erica had commissioned. At my suggestion, the bus unloaded its 65 passengers near the Rockville Metro Station on Friday evening. Because many of her fellow Chicago travelers were staying elsewhere, there was plenty of room for four extra passengers. The bus drove us to First St. and New York Ave., NE, where it parked for the duration of the march. From there, we trudged down First Street toward the march site on the Mall, stopping briefly at the Communications Workers of America (CWA) headquarters at 3rd and E Streets, NW, for bathrooms and some unexpected, but welcome, food." (She worked in the CWA building for 13 years, where she was also a vice president.)
Linda recalled that "We arrived at the mall at around 10:45 a.m. Of course, it was already packed. From that moment, I kind of knew what to expect. There were large numbers of people wandering aimlessly back and forth across the Mall all with homemade signs and making spontaneous chants. Then there were the endless speeches that few in the crowd could actually hear. Those were common sights and sounds from all the over-sized marches and protests I've attended. But there was a difference at this one."
"First, the endless array of pink hats was weirdly unifying. Most of them were knitted by hand, many by supporters who couldn't join the march in person. Second, the demeanor of the marchers was surprisingly courteous and caring, even as the crowd grew over capacity forcing us to just stand there."
Camera in hand, I began to document the event. It was all at once overwhelming claustrophobic and yet peaceful. Linda and I tried to maneuver our group to clear space. Years of familiarity, of training runs and crowded marathons in DC all came rushing forward, yet space to walk was limited to baby steps. From 3rd street we worked our ways past the museums that bordered the Mall and Constitution Ave heading west towards the compass, Washington Monument.
Linda observed that, "The Washington crowd that cut across all races, religions, ethnicities, ages and organizations was extremely polite, well-behaved and even joyous. The somewhat unorganized logistics were a testament to the march's grassroots authenticity."
For both of us it was moving and it tugged at the heartstrings, as Linda puts it, "finally there was the imposing symbolism of Washington itself. It's true that the monuments and museums, save for a few recent additions, have remained pretty constant throughout the marches and protests I've attended over the years. But on Jan. 21, 2017, they seemed to take on new, more important aura and meaning. Seeing the steps of the National Archives stuffed with marchers and their signs brought tears to my eyes, for the first time in 30 years of walking or driving past that building."
Once past the National Archives it was onto one of the remaining gateways to Independence Avenue, the route the marchers would take for the parade. We learned that besides the 3rd Street SW starting point, entrances also existed at 7th SW and 9th SW. We headed towards the Smithsonian Castle and its gardens on 9th. It took us nearly two hours to make it six blocks to 9th and Independence.
On this day I was wearing my ugly Orioles, Orange and Black, flop barrel hat – so that I could be identified and followed by our group. At 6'1" I should be a good mark in the crowd.
Once I made it to 9th I lost the group in the narrow entrance/exit way to the Smithsonian gardens. They neither saw my hat nor I their pink hats. Independence's six lanes were completely filled from curb to curb and up on the sidewalks with about 75 people deep and all the way East towards 3rd and West towards 14th Street. It was 1 p.m. and I picked a spot on a curb near the Arthur Sackler Museum and stood there till 2:30 p.m.
Linda remembers, "After snaking our way across the mall and through the castle of the Smithsonian, we found ourselves amid the largest crowd of the day, poised to march down Independence Avenue. We stood there, unable to move more than 1 or 2 inches on either side, as the speeches continued. Finally, at around 2 p.m., we started to march (crawl really). Eventually we made it to the Washington Monument, where another wave of patriotic defiance swept through my group.   Shortly after, we left the march and headed up Constitution Avenue toward Union Station, against a steady stream of marchers who were trying to catch up to the massive hoard that had reached 14th Street."
It was during that move, as the crowd inched down Independence, that those five unique pink hats came back into view. I was able to rejoin the group, lost once but now found.
From Linda's view, "The police deemed the march too large to finish its planned route to the White House, but no one cared. We knew we had accomplished what we set out to do. We attended one of the largest marches in the history of Washington, D.C. We joined in protest with millions of others around the nation and globe to form the largest demonstration of free speech and peaceful assembly in the history of the world. It was as monumental as the majestic Capitol and Washington Monument that bookend the heart of our capital city. It was historic; it was important; and it was an once-in-a-lifetime event."
Days later during some quiet run time we conversed back and forth I found myself asking her observation of what went right with the March and then what could be improved upon? She responded by saying, "What went right were the tone of the March and the demeanor and courtesy of the crowd.  The politeness and joy was astounding, given the crowd's enormous size. And, we did a pretty darn good job sending a message."
Then I asked how about those signs, which ones did she like. True to form she responded with "Trump is Obviously Bad" , "I can't believe I still have to protest this s—t."  Also, one of her guests had a good one:  "Say Nyet to Hate."  I too saw many signs covering a multitude of issues but one of my favorites was on 14th street.  I found the right moment as a "We The People" sign carried by a husband and wife duo juxtaposition with that icon statue of the Washington Monument in the background.
I eventually asked Linda about her perspective on how the Women's March ranked with others she attended. Linda said, "None of them were like the Jan. 21, 2017 Women's March on Washington. The shear size of the crowd alone (nearly 1 million) set it apart from any protest I had experienced or watched. However, the uniqueness of the Women's March went far beyond its numbers. Sister marches around the country and the world gave it a larger-than-life feel. When was the last time any of us participated in an event along side millions of other people across the globe?"
Of course there are unanswered questions about future Women's Marches. Like can the movements keep up, do the issues live on, or better yet what will happen next? Can marches continue to be peaceful and possible centralize on a few prominent women rights issues rather than the multitude that appeared on signs across the masses on that Saturday in January?
So, lastly I asked her opinion on what next steps should happen for the leadership of future Marches.  Linda summed it up like this "It's important to turn inspiration into action.  I think the Women's March was the beginning of a movement across the nation and the world.  Maintaining momentum by staging other large protests is important in the short run.  Longer term, protest must morph into actions.  Voting in 2018 will be very important to sustain this movement. That's how change will begin to really happen."
At this point all I know is that our Saturday morning training group will continue to meet, we will continue to kibitz, we will discuss the latest issues on sports, politics, kids, grand kids and then listen to one another as we walk along.
Contributing writers: Linda Foley and Phil Fabrizio
Photos: 2017 © Fabrizio | Photoloaf