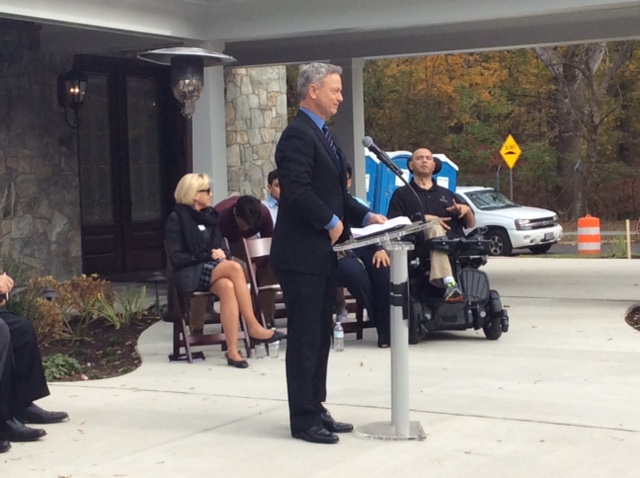 Actor Gary Sinise Attends a Homecoming for Wounded Veteran in Chevy Chase on Veterans Day (PHOTOS & VIDEO)
Actor and humanitarian Gary Sinise, who is the founder of the Gary Sinise Foundation, helped welcome home U.S. Army Captain Luis Avila and his family to their new, specially adapted smart home in Chevy Chase on Veterans Day. The house is located near Walter Reed National Medical Center where Avila is undergoing extensive treatment for his injuries.
Avila enlisted in 2000 and became an officer in 2004. He served five combat tours in Afghanistan and Iraq. On Dec. 27, 2011, while leading his team, an improvised explosive device detonated nearby, killing three of his fellow soldiers and severely injuring two others. Avila suffered an amputation of his left leg, two strokes, two heart attacks and a severe lack of oxygen which caused anoxic brain damage. He was left almost completely paralyzed and in a coma. His wife, Claudia, and their three sons never lost hope and stayed by his side the entire time. Forty days later on Feb. 13, 2012, he opened his eyes for the first time. He continues to progress while maintaining a positive attitude and an incredible sense of humor.
"While we can never truly repay the debt we owe Luis, we can strive to show him, and his brothers and sisters in arms, our appreciation and gratitude whenever possible," said Sinise. "This means supporting our military service members and their families before, during and after the battle…I began raising money to build homes back in 2010, when I played a concert in Staten Island for the first surviving quadruple amputee who was wounded in Iraq, Brendan Marrocco. And now, dozens of projects later, through our program to Restore Independence and Support Empowerment, we can all all share in the blessing that we are able to look upon this work with pride, and with the knowledge that it is a gift to give back to veterans like Luis Avila, for what these brave heroes have done for all of us."
"This home is not a building, this is our house," said Claudia Avila at the homecoming ceremony. "Thank you very much from the bottom of my heart."
Under the RISE program, the Gary Sinise Foundation is building specially adapted smart homes for the the nation's most severely wounded veterans.
A homecoming for @USArmy captain Luis Avila in Chevy Chase on #VeteransDay. @GarySiniseFound @mymcmedia pic.twitter.com/qRdZ9w4Ebn

— Sonya Burke (@SonyaNBurke) November 11, 2016
.@GarySinise shares his support for @USArmy Captain Luis Avila at homecoming in Chevy Chase on #VeteransDay. @mymcmedia @GarySiniseFound pic.twitter.com/c4MlNBYHjR

— Sonya Burke (@SonyaNBurke) November 11, 2016
.@GarySinise honors @USArmy Captain Luis Avila at a homecoming event in Chevy Chase on #VeteransDay. @mymcmedia @GarySiniseFound pic.twitter.com/zHEUGXBZRt

— Sonya Burke (@SonyaNBurke) November 12, 2016
.@GarySinise at dedication ceremony of specially adapted smart home for @USArmy Capt. Luis Avila. @mymcmedia @GarySiniseFound #VeteransDay pic.twitter.com/UWFrRVnC2Z

— Sonya Burke (@SonyaNBurke) November 12, 2016