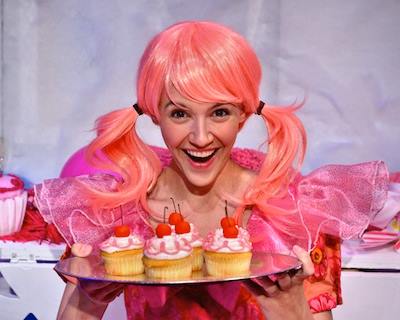 Adventure Theatre MTC Presents Pinkalicous (Photos)
Pinkalicious runs now through August 31 at Adventure Theatre in Glen Echo Park. The production is based on the book Pinkalicious by Victoria Kann and Elizabeth Kann, script by Elizabeth Kann & Victoria Kann, music by John Gregor, and lyrics by John Gregor, Elizabeth Kann & Victoria Kann. Pinkalicious, the Musical is directed by Carl Menninger, with music direction from Wayne Chadwick and choreography & movement by Michael J. Bobbitt. Carolyn Agan, who recently performed as Olive Ostrovsky in the 25th Annual Putnam County Spelling Bee at Ford's Theater, plays the heroine. This show is recommended for all ages. Tickets are $19 each, with group and field trip rates available, and may be purchased by phone at 301.634.2270 or online at Adventure Theatre website.
Pinkalicious Pinkerton's favorite color is pink. She can't stop eating pink cupcakes despite warnings from her parents. Her pink indulgence lands her at the doctor's office with Pinkititis, an affliction that turns her pink from head to toe – a dream come true for this pink loving enthusiast. But when her hue goes too far, only Pinkalicious can figure out a way to get out of this predicament.
Photos by Mike Horan courtesy of Adventure Theatre MTC

Performances of note:
American Sign Language Interpreted Performance Date: July 5 at 2 p.m.
Sensory Friendly Performance Date: August 23 at 2 p.m.
Cast
Pinkalicious – Carolyn Agan
Peter – John Sygar
Mrs. Pinkerton – Ashleigh King
Mr. Pinkerton – Jaysen Wright
Allison/Dr. Wink – Sarah Frances Williams
Pinkalicious Understudy – Jen Bevan
Peter/Mr. Pinkerton Understudy – Sean McComas
Mrs. Pinkerton/Allison/Dr.Wink Understudy – Maggie Leigh Walker
Production Crew
Director – Carl Menninger
Asst. Director – Nicole Cusick
Music Director – Wayne Chadwick
Choreographer/Movement – Michael J. Bobbitt
Set Designer – Collin Ranney
Costume Designer – Katie Touart
Props Designer – Dre Moore
Lighting Designer – Andrew Cissna
Sound Designer – Kenny Neal
Stage Manager – Madeleine Evans
Asst. Stage Manager – Julia Singer
Scenic Charge – Karen Deans
Master Carpenter – Lauren L. Evans
Master Electrician – John Rose-Caron