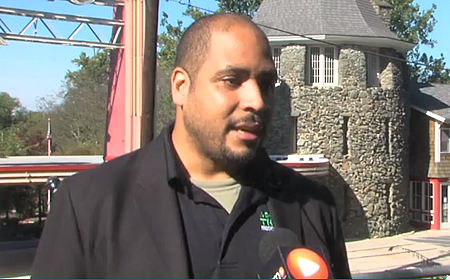 Adventure Theatre's Michael Bobbitt Named EXCEL Award Winner
The Center for Nonprofit Advancement today named Adventure Theatre's Michael Bobbitt an EXCEL award winner. Bobbitt is the Producing Artistic Director of Adventure Theatre MTC located in Wintergreen Plaza in Rockville and Glen Echo Park. The award recognizes and spotlights outstanding leadership among Washington-area nonprofit executive directors.
Finalists were selected through a three-step judging process including a comprehensive nomination form; in person interview with the executive director; and a site visit attended by staff, board members, the executive director and representatives from the community served. The award comes with a $7,000 grant and training through the Center's Learning & Leadership Institute.
In his eight years at ATMTC, Michael has transitioned the organization from a volunteer run community theatre to a nationally recognized leading children's theatre and training academy. The company has grown from 15,000 patrons to nearly 100,000 in that time. The company has received numerous awards includine the 2015 Harold Oaks Award from Theatre for Young Audiences, The Ann Flag Multi-Cultural Award from The American Alliance for Theatre and Education, The 2014 Making a Difference Award from the Nonprofit Village.  Adventure Theatre has received 37 Helen Hayes Award Nominations and four awards, 36 New works and world premieres, three National Tours, two off-Broadway transfers and one international co-production.
Everyday is a delight, when you are making thousands of people happy through theatre. It is what wakes me up everyday! I am thankful for this honor and share it with the staff, board, patrons, students, supporters and friends," said Bobbit.
The Center for Nonprofit Advancement, in partnership with Gelman Rosenberg and Freedman launched the EXCEL Award in 2005 to recognize and spotlight outstanding leadership of Washington-area nonprofit organizations. The award recognizes leadership achievement in the areas of innovation, motivation, community building, ethical integrity and strategic leadership.