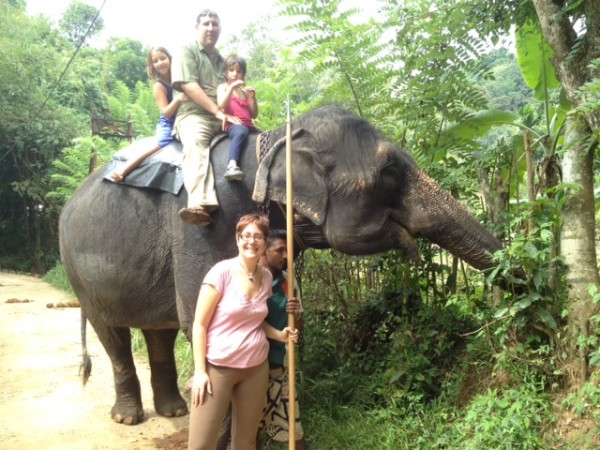 Adventure Travel with Kids…and Elephants
"Ride Them, Feed Them, Watch them Poop, Purchase Poop Products"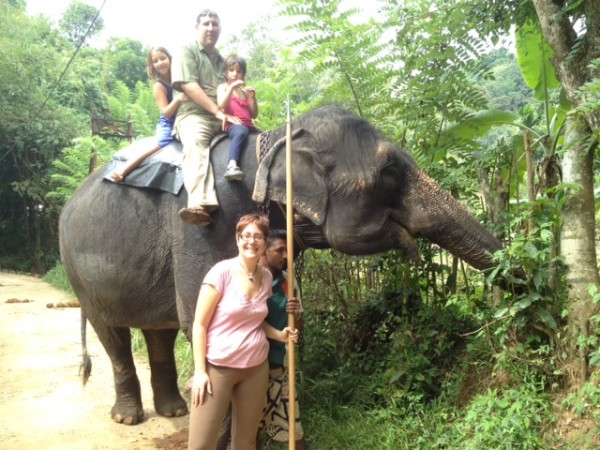 I love adventure travel, I'm selfish and I'm a glutton for punishment. All that's to say that I wasn't ready to sacrifice my globe-trotting ways when I had kids, and as such, I've schlepped iPads loaded with everything from Dora and Sesame Street to High School Musical (1, 2 & 3) across the globe with me, with two kids (and a semi-willing) spouse in tow.
So, taking advantage of December school and work holidays, my family of four set out on a 16 day trip with three duffel bags, 20+ hours of flying and 2 countries: Sri Lanka, via Dubai.
Why Sri Lanka?! I wanted the exoticism, adventure, beauty, colorful markets (and cheap prices) of Asia. My kids – ages 5 and 8 – wanted a beach. An island nation off the south coast of India offered both.
Beautiful palm-frocked beaches aside, when you come to Sri Lanka with kids, there is a must do on every family's list: ride an elephant. There are native herds to Sri Lanka and bejeweled, colorfully painted elephants take part in many a local festival. Increasingly, they are a core part of the tourist infrastructure, and there was no way we weren't getting my kid's little tuschies up on an elephant.
So, enroute to Pinawalla Elephant Orphanage (where you can bottle feed baby elephants!!), we made a pit-stop to ride an elephant. The only hitch in our plan: they wouldn't let the girls go on by themselves, an adult needed to be with them.  Now I'm normally the go-with 'em girl on these sort of adventures. I've done a dozen trail rides with the girls, as my husband always declines out of concern for his girth and the horse's back. He just feels like its animal cruelty for him to hop on a horse. But I'm the photographer in the family, and my wonderful – and talented in many other ways – spouse has seemingly never met the zoom function nor managed to take a photo that doesn't contain some part of his finger. So there was no way I wasn't going to be firmly planted on the ground, camera in hand. And given the elephant weighed a few thousand pounds, his weight was no issue. So up they went on Nona, a young 20-yr old elephant's back.
The owner tried to sell us on a three hour trek, a one hour trek, and a 30 minute. Based on my own limited experience, the more exotic the animal, the more uncomfortable the ride, we paid for the 30 minute but said 15 minute would be just fine, thank you!
Everyone was terrified being so high up. With nothing to hold on to. Or even any instruction on what to do. Or anyone around who spoke particularly good English. But fear and questionable liability issues aside, they lumbered ahead. First, on a trail through the woods. Second, a stop in the local river for a "bath" that entailed Nona getting a trunk full of water, arching her trunk back, and totally dousing my husband and kids. Yes, I got the photo. And, stayed dry!
But the highlight was post-dismount, when we got to feed the elephant bananas, watermelon and pineapples. They don't peel, or worry much about the rinds. You just hold out the fruit, and the sweet little tip of its massive trunk lifts it from your hands and twists it in to its mouth. Pretty amazing.
Then, the best thing of all happened. It pooped. And I mean POOPED.  Seen a bowling ball lately?  (and I don't mean duck pin!) That's about what it looks like. And we got to get close. I mean, on our way in and out of the place for the ride we were jumping over elephant dung piles. And it gets even better, we got to handle the poop too. I mean some processed pulpy poop. Read on…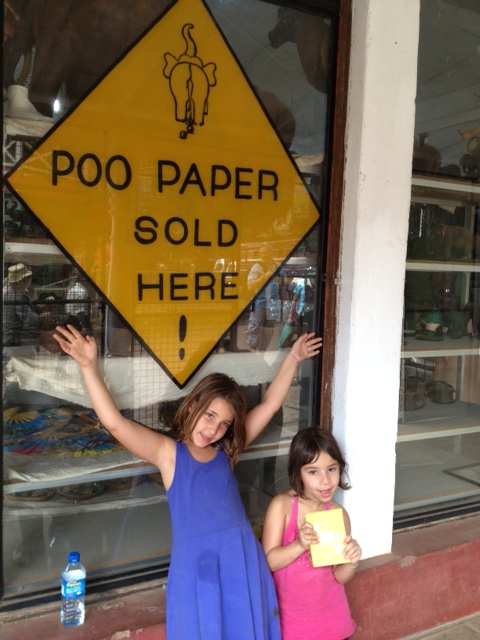 Which brings us to elephant defecation, tacky souvenirs and environmental genius all rolled up in one!  Do you know how paper is made – like the wood pulping process, etc?  Well, it turns out that the elephants digestive tract is like one big natural pulp factory for the 200 – 400 pounds of grasses and tree bark it eats each day. No need to employ machinery and chemicals to pulp the wood if an elephant can do it for you. So there is a small local industry of elephant dung paper products that sprouted up near the local orphanage herd of 50+ elephants. We took a tour and saw the raw dung, the cleaned and processed dung (where they wash the poopy part of it away and save the pulpy fibers to make the paper with), and watched it as it got pressed in to paper and laid out to dry.  And yes, we felt compelled to buy.  A regular notebook in Sri Lanka costs about 30 cents, but we spent $10/each on what the girls term their new "poop books".
Wish I had bought even more – as this wins hands down for the most unusual purchase in a foreign land ever!!