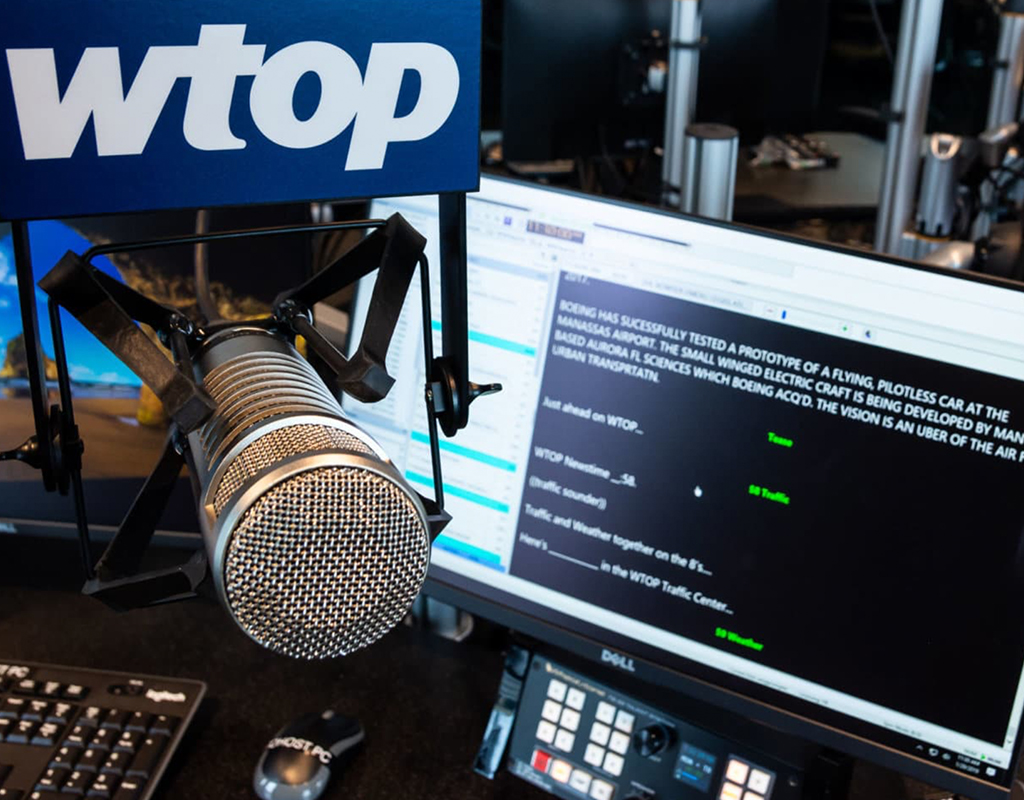 After 30 Years in DC, WTOP Makes Big Move to Chevy Chase
WTOP has moved its famous "Glass-Enclosed Nerve Center" to 5254 Wisconsin Avenue in Chevy Chase. Washington's Top News officially joined the Montgomery County family Sunday night, after it held its first live broadcast at its new location, with 30,000 square feet of office space.
For 30 years, WTOP was located on Idaho Avenue in Washington D.C., but as its team grew, the location started to feel small.
According to Joel Oxley, WTOP's general manager, the biggest difference between the two locations is that the Chevy Chase location has "more room."
"We were definitely running out of room [in D.C.]," said Oxley.
WTOP's Unforgettable Last Week on Idaho Avenue
The news certainly didn't slow down for WTOP's last week on Idaho Avenue.
On Wednesday, Jan. 30, Gov. Ralph Northam (D-Va.) appeared on WTOP's "Ask the Governor" program and made comments about late-term abortion, that caught the attention of prominent Republican officials. His interview continues to go viral, the same week racist photos from Northam's yearbook leaked; Democratic officials are calling for Northam's resignation.
The Northam controversy especially heated up on Saturday, WTOP's last day in D.C.
"If there were ever a day we were hoping to have a slow day that would be it," said Oxley.
Still, Oxley said that the WTOP reporters and anchors "really came through" with reporting the news about Northam, and smoothly transitioning to Chevy Chase in one weekend.
Out With the Old, In With the New Holds True at WTOP's Chevy Chase Location
While located in D.C., WTOP's employees worked on four separate floors (its sister station, the Federal News Network, was also located on its own floor, separated from the WTOP team). The new location is all on one floor, which allows the team to work more efficiently, according to Oxley.
WTOP has been essential for many D.C. commuters who listen to the station on their rides to work for the weather and traffic-related reports "every 10 minutes on the 8's, and when it breaks."
Despite serving local commuters, WTOP's employees and guests didn't have the most convenient commute to its Idaho location, which was a mile away from two metro stops, Tenleytown and Cleveland Park. Now WTOP is Metro-accessible and is located within walking distance of the Friendship Heights Metro station.
Although it's only two miles away from its old location, WTOP isn't interested in hanging onto its old technology. In fact, OLS, the company that's demolishing the Idaho Avenue newsroom, is auctioning off "almost everything" from the old newsroom.
According to Oxley, 95 percent equipment at the Chevy Chase location is new. And yes, the Glass-Enclosed Nerve Center (WTOP's main recording studio, named because it's surrounded by glass on four sides) is also new—and bigger!
Oxley said the new location gives editors more opportunity to edit pieces, with 47 editor's stations.
The WTOP team has been moving "in stages" to the new Chevy Chase location, according to Oxley. Over the past couple of months, different teams have been getting "acclimated to the new location," by getting trained with new software and the new equipment.
Federal News Network and WTOP Reunite in Chevy Chase
Now that WTOP is in its new location, they've been reunited with their sister station. The Federal News Network is smaller than WTOP with about 20 employees. Now those employees will be neighbors with the WTOP team.
Lisa Wolfe, the program director for the Federal News Network officially started at the Chevy Chase location on Monday.
Wolf said, "Where we were [located before] was well worn, so it's nice to walk into something that's brand new and made just for you."
Compared to the D.C. location, WTOP's new surrounding area has "more amenities within walking distance."
Many of the Federal News Networks' employees live in Maryland so, according to Wolfe, since they don't have to commute through D.C., they've been more excited about using public transportation.
WTOP Evolves as Other News Organizations Lay Off Journalists
As other news organizations are shrinking, WTOP, has stayed strong.
"What we do is we provide important news and information to the region, over many different platforms," said Oxley.
Over the past three years, Oxley said the WTOP team has been carefully planning for the move and has hired more reporters.
Wolfe said the Federal News Network hasn't hired more people, but the spacious office location now gives them that opportunity.
"[The new location] gives us a ton of expansion space, so we're ready to hire more people," said Wolfe.