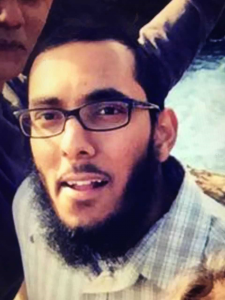 Allegedly Inspired by ISIS, Germantown Man Wanted to Run Down Pedestrians, U.S. Attorney Says
The U.S. Attorney's Office claims ISIS inspired a Germantown man to steal a U-Haul van with the intention of using it as a weapon against pedestrians within National Harbor.
The government has asked that Rondell Henry, 28, be detained pending trial claiming he is a flight risk and a danger to the community, according to a statement from the U.S. Attorney.
A detention hearing is scheduled 12:45 p.m. Tuesday, in U.S. District Court in Greenbelt, before U.S. Magistrate Judge Thomas M. DiGirolamo.
In the statement, U.S. Attorney Robert K. Hur said the investigation is continuing.
Henry is a computer engineer. He told investigators he harbored "hatred" for "disbelievers," according to a motion filed by the U.S. Attorney's Office. Although untrained in weapons or explosives, Henry watched videos created by terrorists, the government says.
On Wednesday, March 26, Montgomery County police reported him missing after his family was unable to contact him. Henry lived on Honey Crisp Lane.
He left his job in Germantown that day, according to court papers.
According to the criminal complaint and other court documents, that same day, Alexandria, Virginia, police was contacted that a leased U-Haul vehicle that had been stolen from a parking garage at a mall in Alexandria.
Court documents say the U-Haul vehicle's driver had noticed a man driving a blue BMW follow the U-Haul off Interstate 395 and onto mall property, then follow the U-Haul into the parking garage and park a few spaces away.
When police responded to the garage, they found the BMW near where the U-Haul had been stolen, according to the documents. Police checked the BMW's registration, revealing the car was registered to Henry.
On March 27, 2019, the stolen U-Haul was found at National Harbor, the court documents say. Police reviewed video surveillance, showing Henry parking and then leaving the U-Haul.  Henry was arrested the next day.
Henry has been formally charged with taking a stolen vehicle across state lines, according to court documents.