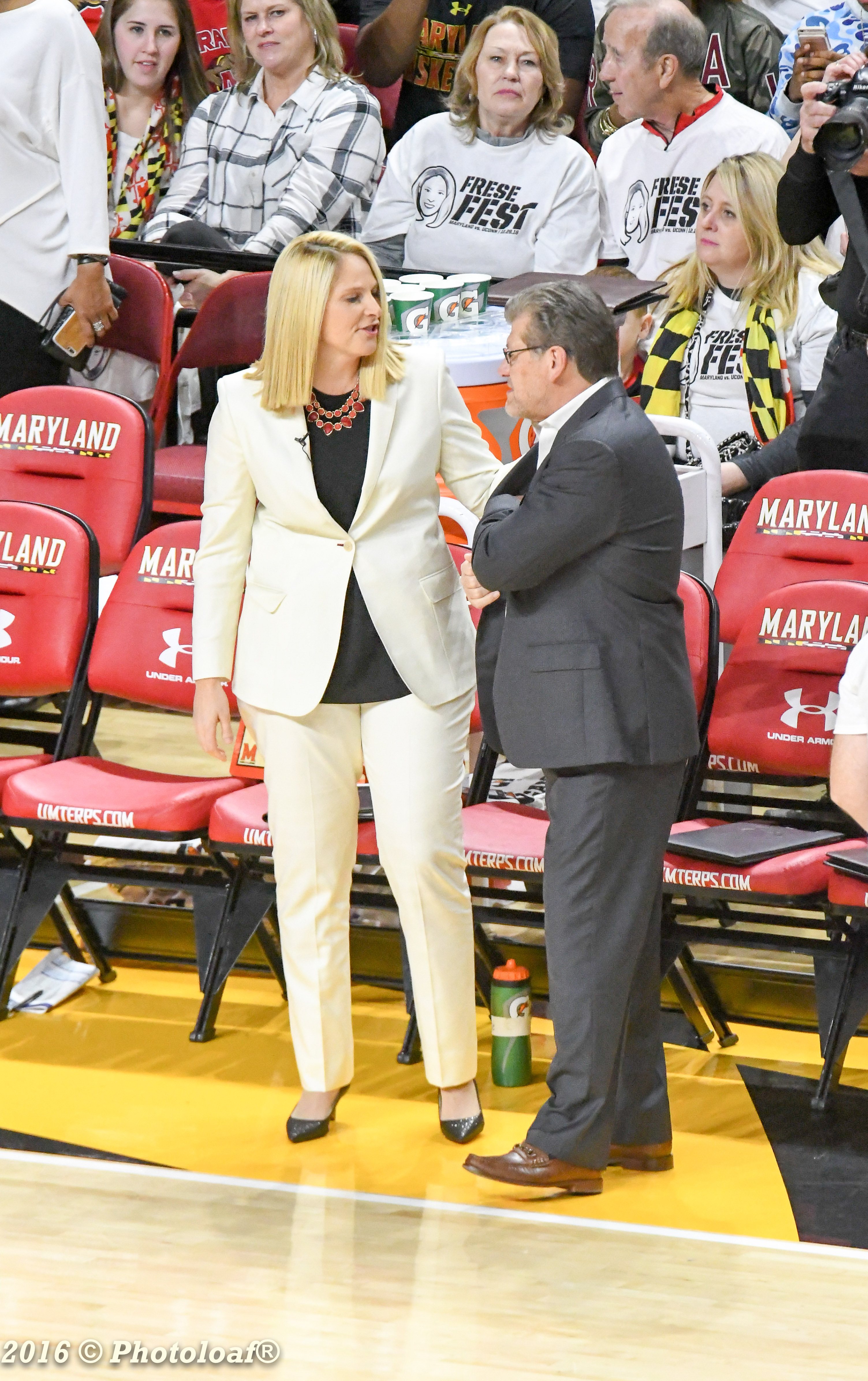 Anatomy of a Xfinity "Frese" Whiteout
The anatomy of a great women's basketball rivalry has many moving parts. A sell out crowd to view games is one part. Bring together nationally ranked teams, one with an 86 game winning streak, another. Add in two of the best women's coaches around and two teams filled with underclass McDonald All-Americans adds to its shape. The between holidays event and a national ESPNU TV audience is the top dressing.
So it was for women's basketball which is alive and well in the radius of the DMV. Thanks to Brenda Frese, head coach of the University of Maryland's #4 nationally ranked team and head coach Gene Auriemmna who brought his top-ranked University of Connecticut Huskies to play the Lady Terps at the Xfinity Center in College Park, Thursday, Dec. 29.
Games of this significance don't just occur as a result of the scheduling gods, it's long in it's crafting. Last year both teams at Madison Square Garden performed to a paying crowd of about 6,500. Thursday night's Frese Fest in College Park was in front of a sold-out crowd of 17,900. Maryland set the B1G women's basketball attendance record. Maryland at Xfinity has become a great atmosphere for any basketball junkie, young and old.
Connecticut extended its winning streak to 87 holding off a rallying Terps team 87 to 81. But it was in the getting to the final score that pleased the fans. As I circled the stadium shooting it was more than obvious that despite the white Frese Fest towels interspersed were very many rabid Huskie fans.
"I am really proud of the fact that we were playing for all the fans and that we were able to create that type of experience," head coach Brenda Frese said. "The environment we had tonight was really special for Maryland and women's basketball fans. It was incredible to be able to see. Obviously, we have to give credit where credit is due. On UConn's end, anytime they were getting any kind of runs. I thought they did a tremendous job."
It was just anold-fashionedd UConn 14-0 run at the start of the second half to take a 50-31 lead that made the biggest difference in this game's outcome. Maryland rallied to narrow the Huskies 19 point lead to 6 at 68-61 with 7:48 in the 4th quarter. Fans of both teams spent the last minutes of that quarter screaming or waving white towels. In the end Maryland dug too big a deficit but stepped up to hang in against the four-time national champion Huskie team that is labeled beatable in 2017.
The bright points for the Terps is their stellar recruits Destiny Slocum and Kaila Charles who together on this evening contributed 45 of the 81 Maryland points. Slocum led the Terps with 23 points while Sophomore Katie Lou Samuelson led the Huskies, also with 23.
Photos| 2016 © Fabrizio as PhotoLoaf®