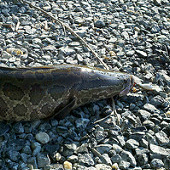 Anglers Hope to Hook Invasive Snakeheads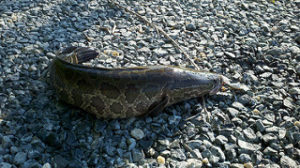 The Maryland Department of Natural Resources is hosting the second Annual "Stop the Snakehead Fishing Derby" June 3 at the Chesapeake and Ohio Canal National Historic Park's Pennyfield Lock, in Blockhouse Point Park off River Road, according to a DNR news release.
Interested anglers can register for the free event here.
Since the 2002 discovery of snakeheads in Maryland, efforts have been made eradicate the invasive fish before it can alter the balance of our state's aquatic ecosystem. The fish have spread beyond the Potomac River and are now prevalent in many tidal rivers in the Chesapeake Bay. In 2015, the species was found reproducing in the C&O Canal.
Snakeheads are a top predator that have rapidly expanded their range in the watershed over the past 10 years, Maryland Natural Resources Resources Planner Joseph Love said.
This year's derby is being hosted by the Maryland Department of Natural Resources in collaboration with the National Park Service, as well as the U.S. Fish and Wildlife Service, Bass Pro Shops and the office of State Sen. Susan C. Lee.
This year's Stop the Snakehead Fishing Derby falls on one of Maryland's license-free fishing days.
Last year's snakehead derby was HUGE. This year's derby falls on a license-free fishing day! #MoCo #ManThoseThingsAreUgly #EatThemAnyhow https://t.co/nvFroWAvif

— Montgomery Rec (@MoCoRec) May 9, 2017