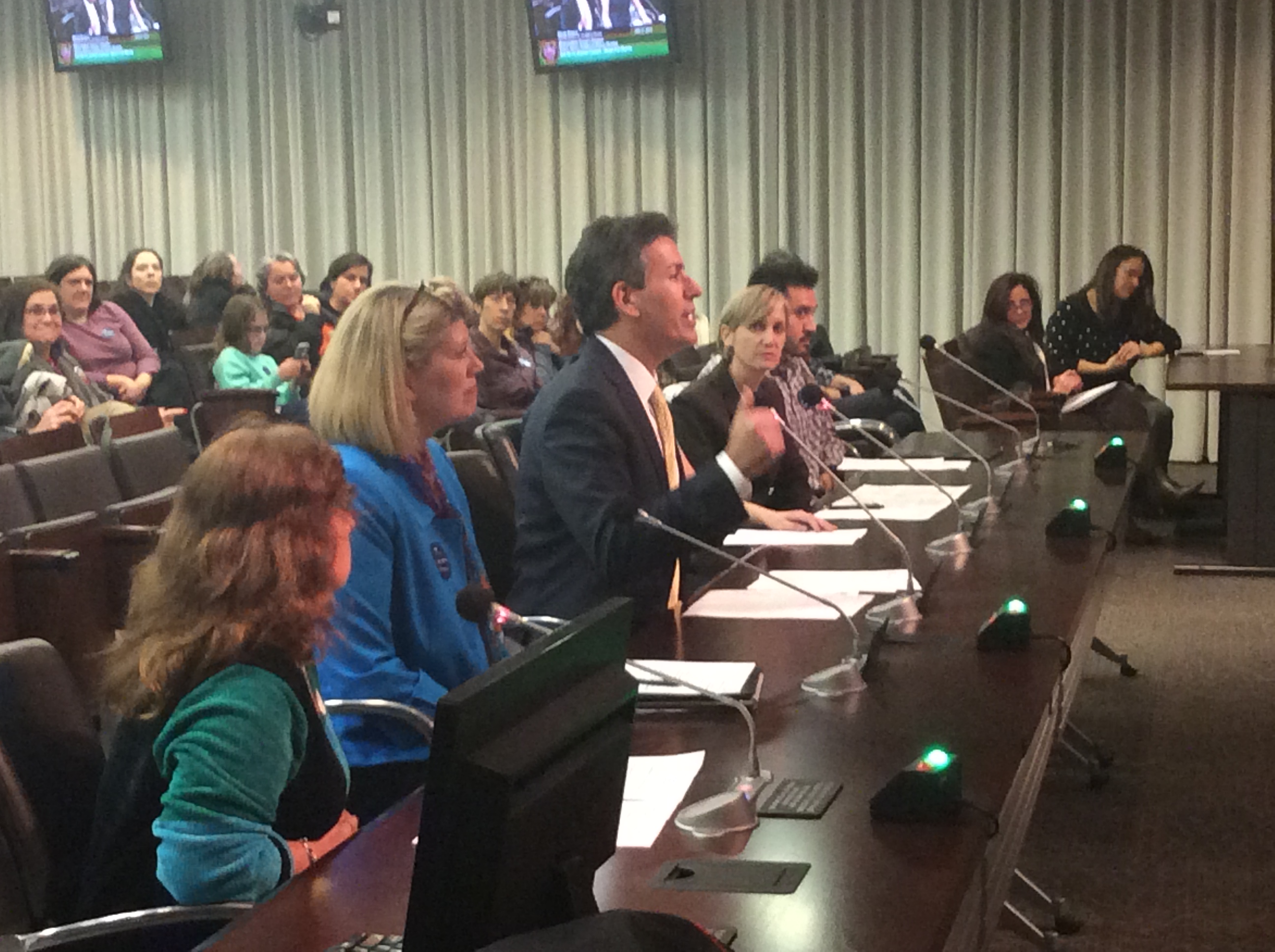 Animal Lovers Turn out to Testify For and Against Pet Bill 50-14 (VIDEO & PHOTOS)
Montgomery County residents love their animals. That was certainly evident at a Jan. 27 public hearing about proposed Bill 50-14 that would ban retail pet stores that sell dogs and cats in Montgomery County.
Dozens of residents packed the Council's chamber, many of them wearing stickers or buttons that read "Animal Lover" or "Stop Puppy Mills" and many of them sharing personal pet stories to illustrate why they were for or against this legislation.
Montgomery County Council President George Leventhal is the chief sponsor of the bill and he says the idea behind it is to ban pet stores from selling "dogs or cats bred in puppy mills."
Just Puppies on Veirs Mill Road is a pet store that sells puppies in Montgomery County but because it is in the city of Rockville it would not be subject to county laws, such as this proposed one.
The executive vice president of the Pet Industry Joint Advisory Council (PIJAC) said that is one reason his organization is opposed to this bill.
"It's a solution looking for a problem," Mike Bober said. "Montgomery County doesn't have any such pet stores currently in operation."
Leventhal said the bill is proactive to prevent stores from doing that in the future. According to Leventhal, no bill he has proposed in his more than 12 years on the Council has attracted as much public reaction as this one.
His bill has the support of the Humane Society of the United States and Pet Connect Rescue. Representatives from both organizations testified at the public hearing and many in the crowd applauded their testimony.
Bob Yarnall of the American Canine Association traveled to Montgomery County from central Florida to testify against the bill. He noted that 35 of the 41 dogs at the county's state-of-the-art Animal Shelter were of pit bull mix and he said consumers simply deserve more choices when selecting a pet.
The owner of Just Puppies, Mitchell Thomson, also testified against the bill.
Another Montgomery County pet store business owner, Ruth Hanessian, testified against the bill even though her store does not sell dogs and cats.
"If legitimate retail options, which are licensed, inspected and collect sales tax are eliminated, citizens wanting a puppy will increasingly move to unregulated sources," she said.
Many others were in favor of the bill, including a representative from the County Executive's office.
Councilmembers Leventhal, Marc Elrich, Tom Hucker and Sidney Katz listened to the testimony of nearly 30 residents at the dais.
The Council's Public Safety Committee has tentatively scheduled a work session on this bill at 3:30 p.m. on Feb. 5.
Attending public hearing on Bill 50-14, which I sponsored to prohibit the sale by pet stores of dogs or cats bred in puppy mills.

— George Leventhal (@georgeleventhal) January 28, 2015