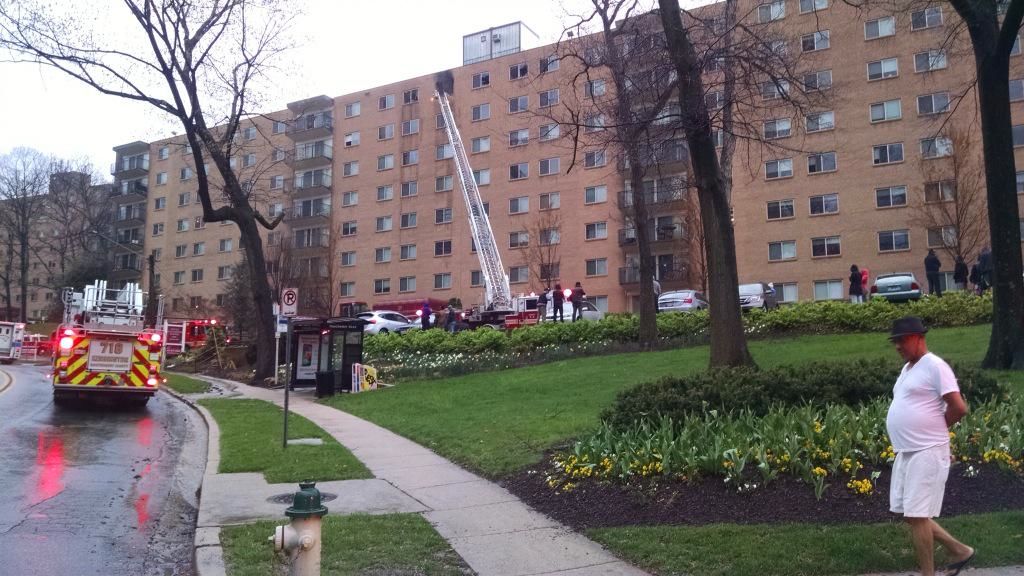 Apartment Building Fire in Silver Spring (PHOTO)
UPDATED, April 14, 9:15 a.m. – The fire at an apartment building in Silver Spring was contained to the apartment that it started in, according to Montgomery County Fire and Rescue Spokesman Pete Piringer.
Piringer said other areas of the building do have heat, smoke and water damage. More than 100 firefighters responded to the scene this morning at the Manchester Towers on East Wayne Avenue where there were initial reports that people were trapped inside. No one was injured, Piringer said, but some residents will be displaced as a result of the fire.
Piringer also reported that residents said they heard an explosion that blew out one window of the building.
E Wayne Av, Cause of fire under investigation, fire confined to apt of origin; heat, smoke & water damage elsewhere pic.twitter.com/Q4hmji5sop

— Pete Piringer (@mcfrsPIO) April 14, 2015
  ORIGINAL – Montgomery County firefighters are on the scene of a two-alarm apartment building fire in Silver Spring. Fire and Rescue Spokesperson Pete Piringer said there were initial reports of people trapped in the building on East Wayne Avenue. According to Piringer, fire was showing from the exterior of the building when firefighters arrived on scene. The bulk of the fire has been knocked down, according to Piringer. He said there have been no reports of injuries.
More.. E Wayne Av, FFs assisted some residents, some others sheltered in place, EMS evaluating however no injuries have been reported — Pete Piringer (@mcfrsPIO) April 14, 2015
Update – Manchester house, fire on 8th floor, bulk of fire is knocked down, firefighters checking for extension, and moving smoking out

— Pete Piringer (@mcfrsPIO) April 14, 2015
Update – E Wayne Ave., Manchester house, 2nd alarm apartment fire, reports of people trapped — Pete Piringer (@mcfrsPIO) April 14, 2015
Update – Manchester house, FFs on scene w/ fire showing & reports of people trapped

— Pete Piringer (@mcfrsPIO) April 14, 2015