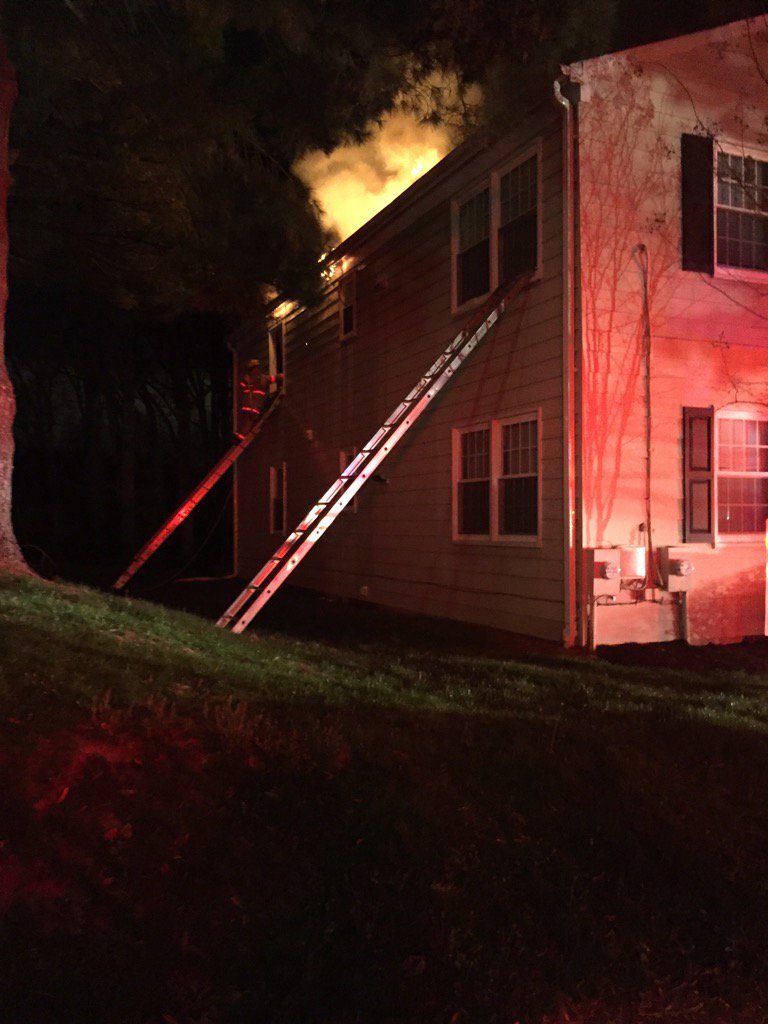 Apartment Fire in Bethesda Displaces Two Families (VIDEO & PHOTOS)
Two families have been displaced after an apartment fire in Bethesda.
It happened around 3 a.m. Tuesday morning, according to Montgomery County Fire and Rescue officials. Fire and Rescue Spokesperson Pete Piringer said that multiple 911 calls were received reporting an apartment fire on the 4300 block of Sangamore Road.
Piringer said that firefighters reported smoke coming through the roof of the apartment building. He said that the fire originated in the attic.
According to officials, firefighters were able to control the fire and extinguish it. Piringer said a total of 45 firefighters were on scene and the Red Cross is assisting the seven displaced residents. There were no injuries, he said.
According to Piringer, damage is estimated at $250,000. Officials believe the cause of the fire is electrical in nature, though it remains under investigation.
Update – Seven People Displaced In Early Morning Bethesda Duplex Fire (photos & video) https://t.co/G9hIxTsBh6 pic.twitter.com/o30XQkwyNV

— Pete Piringer (@mcfrsPIO) March 29, 2016
Multiple 911 calls were received & MCFRS crews arrived on scene & encountered fire coming from Sangamore Rd attic pic.twitter.com/YNyI1VSmwf

— Pete Piringer (@mcfrsPIO) March 29, 2016
4307 Sangamore Rd, Bethesda; Damage >$250k; Cause, electrical; Area of Origin, ceiling/attic; 2 families displaced pic.twitter.com/fGyiEBWJHF

— Pete Piringer (@mcfrsPIO) March 29, 2016
4307 Sangamore Rd, Bethesda; Damage >$250k; Cause, electrical; Area of Origin, ceiling/attic; 2 families displaced pic.twitter.com/fGyiEBWJHF

— Pete Piringer (@mcfrsPIO) March 29, 2016
Traffic Advisory – Sangamore Rd BLOCKED btwn Sentinel Dr & MacArthur Blvd/ Brookes Ln pic.twitter.com/6k6MnkCVGl

— Pete Piringer (@mcfrsPIO) March 29, 2016
(320a) 4300blk Sangamore Rd, 2-sty duplex apt, fire on 2nd floor & attic, fire out, no injury, 2 families displaced pic.twitter.com/mRPcBc8mHm

— Pete Piringer (@mcfrsPIO) March 29, 2016
Update – Sangamore Rd, 2-sty apt bldg, fire under control, 2 families displaced (total 7 people), 45 FFs on scene pic.twitter.com/royYtEDF66

— Pete Piringer (@mcfrsPIO) March 29, 2016
Traffic advisory – MacArthur Blvd and Sangamore Road blocked, FD activity

— Pete Piringer (@mcfrsPIO) March 29, 2016
Update – Sangamore Road, fire under control

— Pete Piringer (@mcfrsPIO) March 29, 2016
Update – Sangamore Rd, bulk of the fire in attic knocked, FFs continue to check for extension

— Pete Piringer (@mcfrsPIO) March 29, 2016
Update – Sangamore Rd, MOR (middle-of-row) townhouse, attic fire, checking for extension, all occupants out & accounted for

— Pete Piringer (@mcfrsPIO) March 29, 2016
BTW ICYMI (2a) 18612 Sandpiper La, Gburg, food on stove, no injury, some smoke, minimal damage

— Pete Piringer (@mcfrsPIO) March 29, 2016
4307 Sangamore Rd, 3-level MOR TH, fire 'thru' roof, FFs w/ firefight, FFs assisting ppl out

— Pete Piringer (@mcfrsPIO) March 29, 2016
Update – Sangamore Rd, 2-sty TH, fire in attic, FFs assisting people out

— Pete Piringer (@mcfrsPIO) March 29, 2016
4300blk Sangamore Rd, house fire, FFs now arriving w/ fire showing

— Pete Piringer (@mcfrsPIO) March 29, 2016