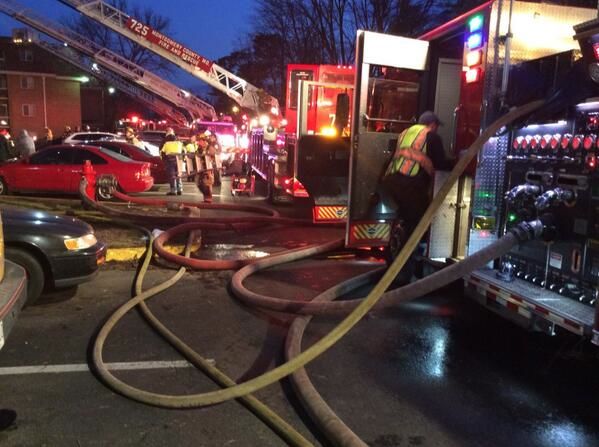 Apartment Fire on Georgia Avenue (Photos)
Montgomery County firefighters are investigating a two-alarm blaze that occurred at the Manor Apartments at 14300 Georgia Avenue in Silver Spring on March 27.
Public Information Officer Pete Piringer reports on his Twitter account that dozens of residents were evacuated from the three-story structure. He said eight apartments were damaged in the blaze and multiple residents were displaced because of the fire and because the utilities were shut off to the building. The Red Cross was on scene to assist families with housing.
According to Piringer, the fire began on the third floor and there was some extension to the roof.
Damage is estimated at one million dollars. Piringer reports there was approximately $650,000 in damage to the apartment building and $350,000 in damage to the contents. The cause of the blaze has been ruled accidental, electrical wiring.
Piringer said firefighters will return on March 28 to talk about fire safety and to check smoke alarms.
Final Update: 14300blk Ga Av, Manor Apts; Damage <$1million ($650K bldg,$350K contents); Cause elec wiring-accidental pic.twitter.com/gZEaQOhMG1

— Pete Piringer (@mcfrsPIO) March 28, 2014
Update – Manor Apts, <8 Apts impacted + utilities shut off Red Cross on scene, dozens may be displaced, no injuries pic.twitter.com/441MaGOmmY

— Pete Piringer (@mcfrsPIO) March 28, 2014
Update – 14333 Ga Av, fire under control checking hot spots, no injuries, damage mod/heavy, some area traffic issues pic.twitter.com/L1zkxixeGc
— Pete Piringer (@mcfrsPIO) March 28, 2014
Dozens of residents evacuated Manor Apt, fire on 3rd fl w/ extension to roof, EMS evaluated several, no transports pic.twitter.com/XDmZJ00jdC

— Pete Piringer (@mcfrsPIO) March 27, 2014
Update – Manor Apts, 14300 blk Ga Av, fire is under control checking hotspots, FFs assisted 11m EMS evaluate no trans pic.twitter.com/TL1Yi9jgV9
— Pete Piringer (@mcfrsPIO) March 27, 2014
Update – 14000 blk Ga Av – Apt fire – 2mcfrs FFs have assisted several occupants from bldg, EMS evaluating at least 1 – fire fight continues

— Pete Piringer (@mcfrsPIO) March 27, 2014
Traffic Advisory – dozens of @mcfrs units on scene of 2-Alarm Apt fire – expect traffic issues in area of Bel Pre Rd & Ga Av – FD activity
— Pete Piringer (@mcfrsPIO) March 27, 2014