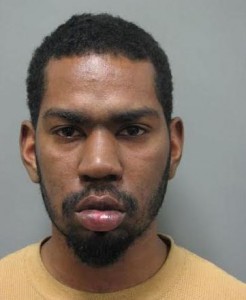 Arrest Made in Olney Bank Robbery (Photo)
Detectives from the Montgomery County Police, Major Crimes Division, have arrested and charged a suspect for the robbery of the Capital One bank in Olney that occurred on Feb. 20. Michael Williamson, age 29, of the 3300 block of Buehler Court in Olney, was arrested on the evening of Feb. 20 and charged with one count of armed robbery.
According to police, the male suspect, later identified as Williamson, entered the bank and passed a note to the teller. Police say the note demanded money and implied that the suspect had a gun. The suspect received cash and exited the bank.
Police report investigators disseminated a bank surveillance photograph of the suspect to Montgomery County police officers. An officer contacted investigators and identified the suspect as Williamson.
Police say that on Feb. 20 at approximately 5:40 p.m., officers patrolling the downtown Wheaton area notified investigators they had just arrested a suspect, identified as Williamson, for possession of marijuana.
According to police, during a search incident to arrest, officers located cash in Williamson's pants pocket; that cash was identified as proceeds from the bank robbery. Officers say they also located a knit cap on Williamson, which was similar to the cap worn by the suspect in the bank robbery.
During questioning, Williamson admitted to committing the bank robbery. He was transported to the Central Processing Unit and is being held on $75,000 bond.