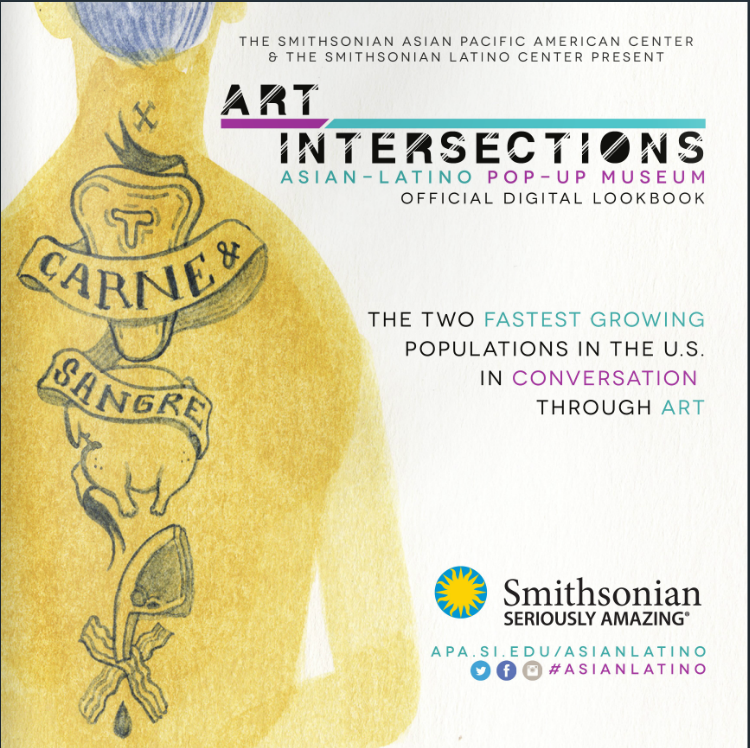 Art Intersections at Veterans Plaza
The Smithsonian Asian-Latino Festival 2013 will come to Silver Spring on August 6 and 7 with a pop-up art museum. Art work of Asian and Latino artists will be projected on the surfaces of Veterans Plaza from 8 – 10 p.m. each night. The site was chosen as an urban landscape fundamentally shaped by immigration and cultural diversity. The Smithsonian Asian Pacific American Center shows will feature work and curation by a range of celebrated artists exploring Asian Latino intersections.
Curators Eric Nakamura, Shizu Saldamando, and Adriel Luis will project artwork onto the public surfaces of Veterans Plaza, telling the visual stories of Asian-Latino cultural connection as a DJ spins Asian-Latino fusion music. Two evenings of Street Culture & Art programming will feature "pop-up" galleries to transform public space from the utilitarian to the expressive. By way of projection, visual stories of Asian-Latino shared culture will be mapped onto the canvas of our walls-not simply bringing art into public space but making public space into art.
Veterans Plaza in Silver Spring, Maryland, is metro accessible via the Red Line at the Silver Spring station.
Different artists will be present and different artwork will be on display for both evenings.
Tuesday, August 6:
Ariel Luis (Curator)
Favianna Rodriguez
Mia Nakano
Steve Alfaro
Studio Revolt
Monica Ramos
Fidencio Martinez
Laio Alcaraz
Wendnesday, August 7:
Eric Nakamura (Curator)
Shizu Salamando (Curator)
Albert Reyes
Ana Serrano
Clement Hanami
Audrey Chan
Gary Garay
Sadie Barnette
Arnoldo Vargas
Pablo Cristi
Kozyndan
Ako Castuera
http://apa.si.edu/asianlatino/art.html
View the digital lookbook: http://issuu.com/smithsonianapa/docs/artintersections