Arts on the Block Exhibit at Edison Place Gallery on Display Through Aug. 17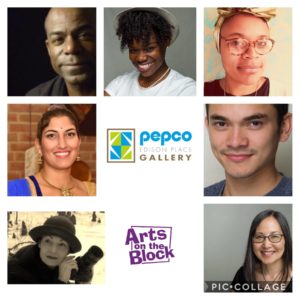 Arts on the Block presents PIVOT, an art show at the Pepco Edison Place Gallery, 702 Eighth Street, NW, Washington DC. The exhibit is on display from now through Aug. 17.  The gallery is open to the public Tuesday through Thursday, noon to 4 p.m.
A reception is scheduled for Wednesday, August 1 from  6 – 8 p.m. and provides an opportunity to meet the artists and learn about their work. The reception is free and open to the public. RSVP is requested, here.
The PIVOT exhibit, curated by Athena Corbin, explores the idea of a turning point or change in circumstance – from life changes, to career changes, to the changes in our political climate. With an underlying theme of growth, these pivots can completely alter one's life. The media presented – painting, video, sculpture, photography – also reflect the diverse and dynamic nature of change.
The exhibit includes works by Arts on the Block's Pour Your ART Out (PYAO) workshop apprentices as well as nationally established artists – Kristine Aono, Athena Corbin, Clayton Evans, Victoria Gregg, Rafael Rodriguez, Veronica Sloan, and Anjali Madan Wells.
Arts on the Block, a non-profit located in Kensington, runs a professional studio apprenticeship program for youth that provides job training, studio skills, and career path support to teens who might not otherwise be introduced to art and design careers.
Photos courtesy Arts on the Block