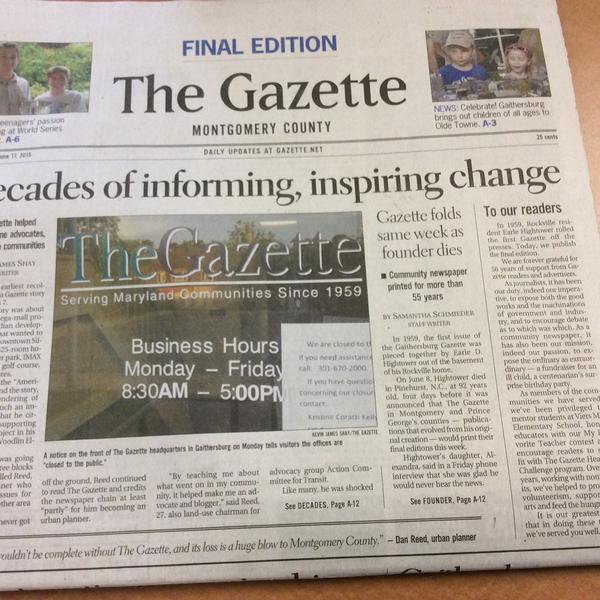 As Gazette Era Ends, Archiving Discussion Begins
As The Gazette hits driveways and front stoops for the last time today, questions turn to how to preserve what has already been published.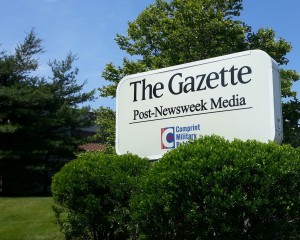 Rockville Councilmember Tom Moore told MyMCMedia he has reached out to The Washington Post to find out plans to archive the issues, but he said he has not gotten a response. Amazon.com CEO Jeff Bezos bought the weekly papers in Montgomery and Prince George's counties when he bought the Post in 2013.
"The City of Rockville has some interest in making sure these archives stay available," he said. "I don't care how it is done. It won't take an awful lot of money. I just want to be sure it is somewhere. It was a newspaper of record for this area."
Moore said while the media and government have a kind of "perceptual opposition" he is mourning the loss of The Gazette.
"After so many good media outlets have fallen and so many other shrunk dramatically it has hit me hard to have my hometown paper die," Moore said.
He even brought The Gazette staff a bottle of bourbon, complete with the city seal on the back on Monday and a letter that stated, "I'm not sure how the hell we are going to get along without you."
The Gazette has been operating since 1959 and has expanded and shrunk editions throughout its history. The closing of the Montgomery and Prince George's editions resulted in 84 employees losing their jobs.
Gaithersburg's Mayor Jud Ashman said he too feels it's important that The Gazette information is available to the public.
"It is a treasure trove of information of the county's history and should be preserved and be publicly accessible," he said, adding that he would like to offer city support in the effort if needed.
Sources inside The Gazette have said that there is some discussion about preserving the archives but not specifics have been released.
Montgomery County Council's Legislative Information Officer Neil Greenberger said personnel at the Montgomery County Archives and Montgomery County Historical Society are aware of a community desire to preserve The Gazette archives. He said he is unsure the status of that inquiry.
Montgomery County Historical  Society's Executive Director Matthew Logan could not immediately be reached for comment. Washington Post's media representative also did not immediately respond to a request for information.