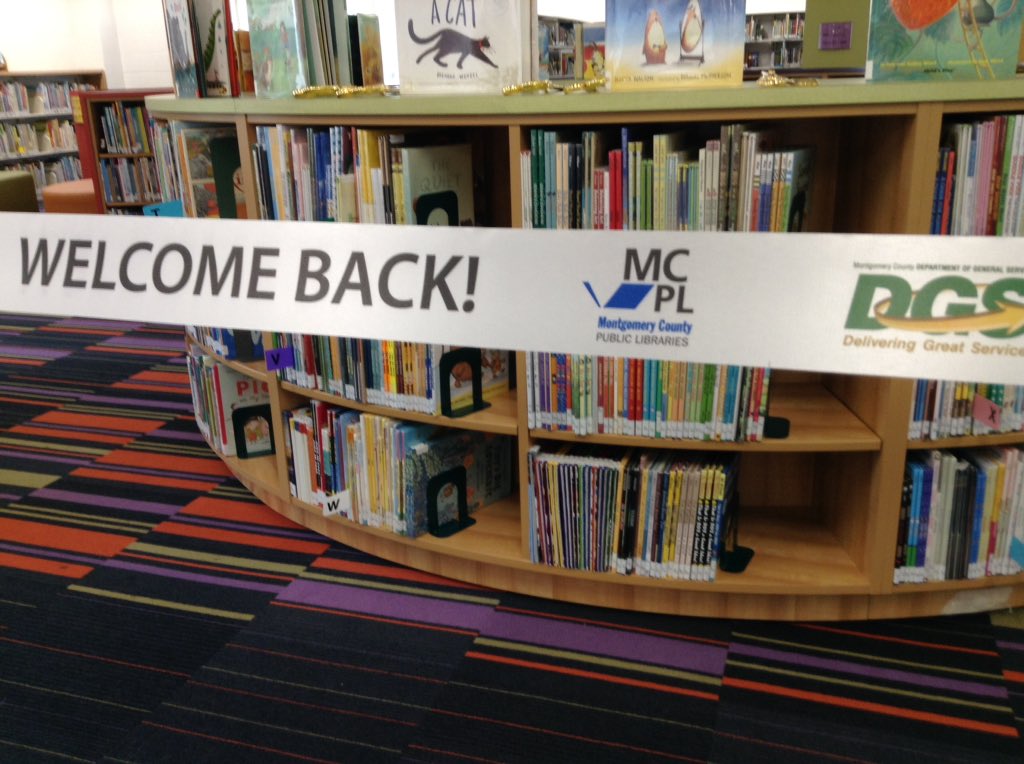 Aspen Hill Library Reopens After a Refresh (VIDEO)
Montgomery County officials are celebrating the grand reopening of the Aspen Hill Library branch, which reopened this past weekend. The $1.2 million refresh project took eight months to complete.
Find out more in the video recap, below:
Montgomery County Executive Ike Leggett was joined at the grand opening celebration by Councilmembers Sidney Katz and Marc Elrich, Maryland Delegate Bonnie Cullison, Libraries Director Parker Hamilton, General Services Director David Dise, Aspen Hill Library Advisory Committee Chair Elliot Chabot, Aspen Hill Library Manager Ken Lewis and members of the community.
"I am pleased to reopen the renewed Aspen Hill Branch," said Leggett. "This is the fourth ribbon cutting under the new 'refresh' program, which is an innovative way to ensure that our branches get necessary updates and stay in good repair. The "refresh" model saves our residents thousands of dollars."
"It is very gratifying that the Aspen Hill community has such a beautiful facility," said Katz. "I am someone who truly appreciates everything that libraries provide for each of us. The resources inside this building allow us to expand our horizons. I'm reminded of what Dr. Seuss says, "The more you read, the more you will know. The more that you learn, the more places you'll go."
According to county officials, the improvements to the library included a new circulation and information desks, new carpet/flooring and paint, collaboration rooms, Americans with Disabilities Act (ADA) renovations to the public restrooms on the lower level, new water fountain with water filling station, reorganization of shelving in the adult and children's reading rooms, enhanced children's collection and programming area, teen space with seating area, new 24/7 book drop and ADA improvements to the parking lot, main entrance and walkway area.
"I am very pleased with the results of the refresh of the Aspen Hill branch," said Hamilton. "The responses from the communities of the branches that have been revitalized so far through this program have been extremely positive. I look forward to visiting in the future and being delighted by the amazing working being completed on the branches of Montgomery County Public Libraries."
"DGS is pleased to present to Aspen Hill library patrons this revitalized and refreshed library," said Dise. "The community is sure to enjoy the bright and vibrant interior as well as the clean and accessible exterior."
According to a county news release, the Friends of the Library, Aspen Hill Chapter provided a donation towards the project and provided refreshments and entertainment for the grand opening celebration.
CE Ike Leggett thanks Dir Hamilton for her leadership & vision in refreshing MCPL branches. #MCPLrefreshed pic.twitter.com/aCjU01OeE9

— MCPL (@MCPL_Libraries) July 15, 2017
Dir Parker Hamilton thanks the #AspenHillLibrary staff for their hard work. pic.twitter.com/XAN8WYwXpt

— MCPL (@MCPL_Libraries) July 15, 2017