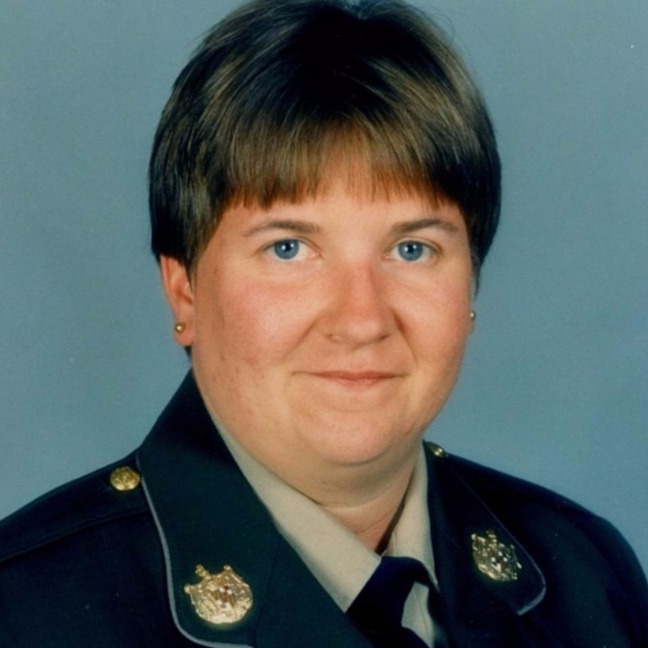 Assistant Chief Retiring With More than 30 Years with Montgomery County Police
Montgomery County Police Assistant Chief Betsy Davis completes her last tour of duty Friday, retiring after more than 30 years with Montgomery County police.  Davis joined the Montgomery County Police Department in 1985 as a member of academy session 15.
"Betsy has served her community with compassion, humility, and integrity.  Her ten years as an Assistant Chief has helped shape the Police Department into the progressive agency it is today.  Montgomery County is better because of Betsy Davis' service," Chief Tom Manger said.
A native of Montgomery County, Davis grew up in the Woodside area of Silver Spring and graduated from Montgomery Blair High School, formerly located on Wayne Avenue in Silver Spring.  After earning her bachelor's degree from Towson University in 1984, she applied to become a Montgomery County police officer.  She was sworn in on July 11, 1985, and began her career as a patrol officer in Silver Spring District.
Davis rose through the ranks from patrol officer to corporal, sergeant, lieutenant, captain/commander, to assistant chief.  Through the years, she has served in many positions to include detective sergeant of the Bethesda Investigative Section, Deputy Director of the Rockville and Montgomery Village districts, director of the personnel division, and commander of the Bethesda and Silver Spring districts.  Since her appointment to assistant chief in 2007, she has served as assistant chief of the three bureaus: patrol services, management services and currently the field services division.
Davis has responded to major events that she recalls vividly and have shaped how she views police work; events to include the 1996 train collision in Silver Spring, the 2002 DC Sniper Beltway attacks, and the 2015 Baltimore City unrest.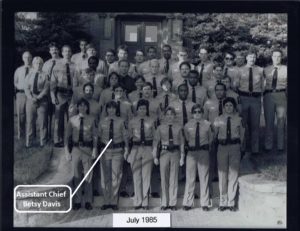 Davis has also dedicated her career to remembering the police department's 18 fallen heroes.  As chair of the department's Fallen Officer Memorial annual service, she is the driving force in ensuring that officers killed in the line of duty are never forgotten.  She is a board member of HEROES Inc. (an organization that offers assistance and advice to the families of fallen officers and firefighters).  She is also on the board of the Officer Noah Leotta Foundation, named in honor of fallen Montgomery County Police Officer Noah Leotta.  The organization works to promote awareness of the problems of impaired driving and underage drinking and also supports victims of these crimes.  Davis also volunteers at the Kensington Park Senior Living Community.
Davis' father, Robert B. Davis, spent 42 years with the B&O Railroad Co. He was the first person to volunteer with the Department's (at the time) newly established official volunteer program.  Robert Davis volunteered at the Silver Spring District for 20 years.
"I have been privileged to work with the men and women of the Montgomery County Police Department for the past 32 years," Davis said. "During that time, I have never regretted my decision to be a police officer and to be a part of MCP.  I thank all the many department members, family, friends, and community members who supported me during my career.  It has truly been an honor to wear this badge."
The Police Department is indebted to Chief Davis for her years of service both to the Department and to the Community, and we wish her a long and fulfilling retirement.
Davis spoke about her impending retirement in this MyMCMedia Extra:
Assistant Chief Betsy Davis Plans to Retire This Year (VIDEO)