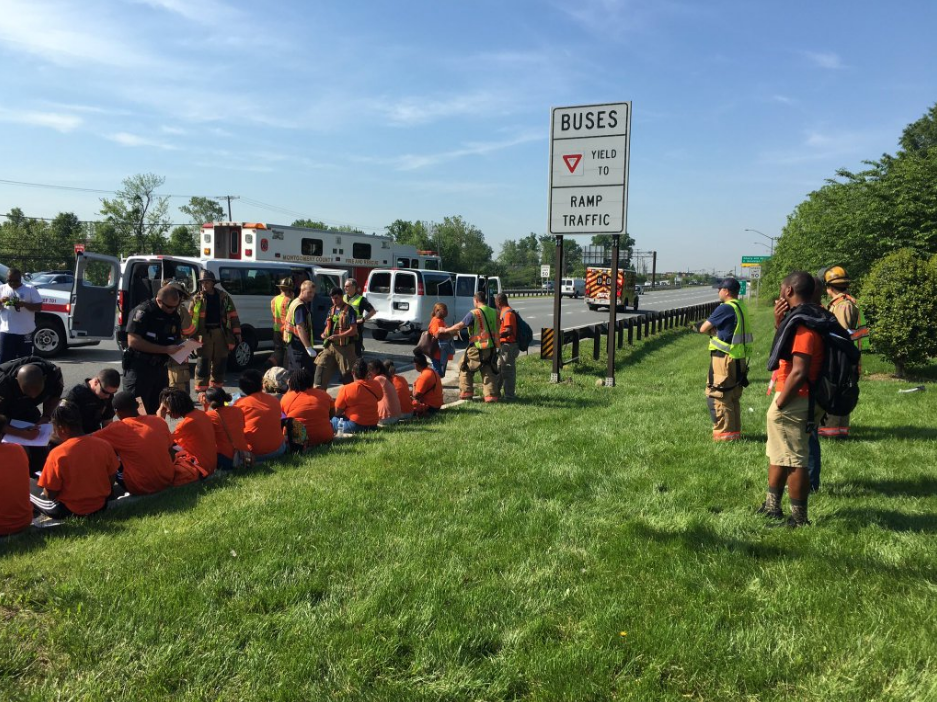 At Least a Dozen People Injured in Silver Spring Van Crash (PHOTOS)
UPDATED Montgomery County Fire and Rescue crews responded to what they are calling a "mass casualty" incident involving a two-van collision on Columbia Pike near Musgrove Road Thursday morning.
According to Fire and Rescue Spokesperson Pete Piringer, 23 children, age 12 to 14, and two adults were transported to the hospital with non-life-threatening injuries.
The accident caused multiple lane closures on Columbia Pike.
No additional details were immediately available.
Traffic Incident closes 3 right lanes of southbound Columbia Pike (US-29) at Musgrove Rd. Expect significant delays. #MdTraffic

— MC Emergency Mgt (@ReadyMontgomery) May 26, 2016
Update – Rt29 – MCFRS MCI – total 25 patients transported, 23 juveniles age 12-14 & 2 adults, all injuries Pri3, NLT pic.twitter.com/lHbkUkW34D

— Pete Piringer (@mcfrsPIO) May 26, 2016
Update – Rt29, 11 juvenile patients have been transported via EMS, at least 8 others being evaluated, MAB enroute pic.twitter.com/fgL77L64f8

— Pete Piringer (@mcfrsPIO) May 26, 2016
Update – Columbia Pike declared a MCI (Mass Casualty Incident) based on number of patients, MAB (Medical Ambulance Bus) enroute, all Inj NLT

— Pete Piringer (@mcfrsPIO) May 26, 2016
Update – SB Rt29 Columbia Pike, collision, involves van, EMS evaluating at least a dozen juveniles for transport, all Pri3, NLT inj

— Pete Piringer (@mcfrsPIO) May 26, 2016
Update – Columbia Pike near Musgrove Rd, EMS evaluating multiple patients, numerous EMS units OS, some lane BLOCKED pic.twitter.com/vBjLTKGUbs

— Pete Piringer (@mcfrsPIO) May 26, 2016