AT&T National Returns to Congressional June 23-29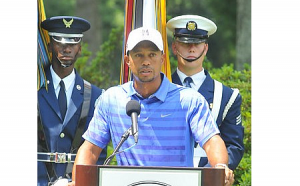 The Tiger Woods Foundation will return to the Congressional Country Club in Bethesda when the top 132 PGA TOUR professionals compete for their share of a $6.5 million purse at the AT&T National on June 23-29.
The event raises funds and awareness for the Tiger Woods Foundation while paying tribute to our country's armed forces.
Since 2007, the AT&T National has raised nearly $15 million, with the 2013 tournament raising nearly $2 million to benefit the Tiger Woods Foundation and local charities.
In preparation for the tournament, the Tiger Woods Foundation is seeking volunteers to help conduct the AT&T National. Volunteering is a great way to become involved in the area's PGA TOUR tournament with more than 25 different committees to choose from.
You can find out more at the tournament's website: http://web.tigerwoodsfoundation.org/events/attNational/index