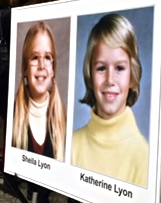 Authorities Schedule News Conferences to Discuss Developments in Missing Lyon Sisters Case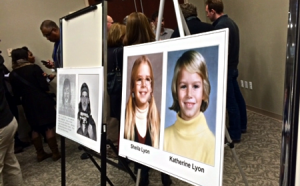 UPDATED There may be some answers today about a case that has haunted residents in Montgomery County for the past forty years.
Back on March 25, 1975, sisters Sheila and Katherine Lyon disappeared near a popular shopping center in Wheaton. According to police, the sisters were last seen just after 2 p.m., walking between Wheaton Plaza (now Westfield Wheaton) and their home, only half a mile away. Their mother told them to be home by 4 p.m. that afternoon, but they never returned. Police said they disappeared without a trace, and have not been heard from since.
Authorities have scheduled a news conference for noon on July 15 at the Mid-County Services Center, 2424 Reedie Drive, to discuss "major developments" in the investigation of the missing Lyon sisters.
Bedford County Sheriff Mike Brown, Commonwealth Attorney Randy Krantz and members of the Montgomery County Police Department and the Montgomery County State's Attorney's Office are expected to discuss the latest developments in this case.
Authorities said a second news conference will be held at noon on Thursday at the Central Virginia Community College, Main Training Room, 1633 Venture Blvd., Bedford, Virginia.
The Bedford County Sheriff's Department has posted a news release about the two news conferences on its website, here.
No other information has been released to date.